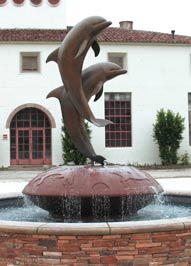 Obtain information about CSU Channel Islands based on your unique interests and needs by setting up your own Dolphin VIP web page. Through your Dolphin VIP page, we will keep you informed about your admissions deadlines, campus events and other important information, and you will enjoy the easy navigation of the CI website.
Your email address is another important part of our communication process. Don't have email? Get a free email account!
Sign Up Now
Select the category that most closely relates to your upcoming application status so we can personalize your information:
Freshman Sign Up — if you are currently in high school or have graduated and have not taken any college course work since graduation. Also use this link if you have not yet entered high school.
Transfer Sign Up — if you have graduated from high school and have taken some college coursework following the summer of your graduation.
Returning Dolphin VIP User?
Need Help?
Call 805-437-8520  or email admissions@csuci.edu