by Kim Lamb Gregory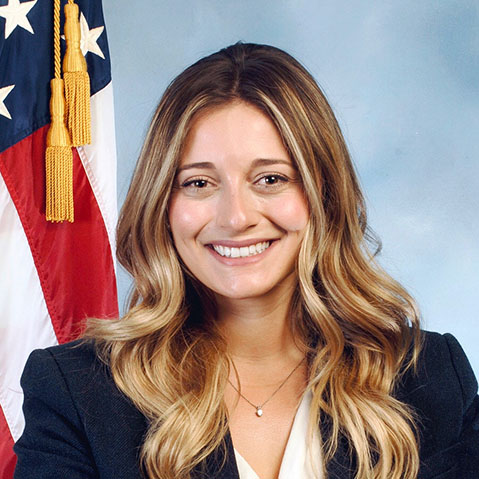 When she walks into the courtroom as a federal prosecutor for the United States, CSU Channel Islands (CSUCI) Political Science and Communication alumna Kristina Cervi seeks justice for all she serves, but a guilty verdict is especially rewarding if she's representing an essential worker or the most vulnerable in society.
"I love my job," Cervi said.
Ever since she graduated cum laude from CSUCI in 2015, Cervi has been "a woman on a mission," she said, with goals to serve the country in Washington, D.C.
Integral to her focus, discipline and success were CSUCI Professor of Political Science Andrea Grove, Ph.D., and Political Science Lecturer Chris Scholl, Ph.D., who saw Cervi's potential.
"Kristina just had a spark that was easy to notice," Scholl said. "She was bright, but more importantly, inquisitive, and just wanted to learn. In addition, she was outgoing and it was obvious she could work with people."
Scholl and Grove encouraged her to join the Model United Nations program and try for the Panetta Congressional Internship Program.
"I witnessed her development as a researcher, negotiator, diplomat and mentor," Grove said. "Her intellectual curiosity, good humor and ability to lead from behind made her an ideal Model United Nations candidate."
After getting the Panetta Internship, Cervi found her calling while working on Capitol Hill.
"I knew I wanted to be back in Washington, D.C. where all great minds come to work and make things happen," Cervi said. "I was immersed in the epicenter of our country's history and I was inspired."
In 2016, Cervi attended Syracuse University College of Law in New York on a full scholarship. She finished in the top 7% of her class during her second year and during her third year, worked for several government agencies contributing to the cross-section of national security and law.
When Cervi graduated from law school in 2019, she was hired as an entry-level attorney by the U.S. Department of Justice through the competitive U.S. Attorney General's Honors Program. Earlier that same year, she was selected to detail for just under a year as a Special Assistant United States Attorney with the United States Attorney's Office in the nation's capitol. 
Cervi, who grew up the daughter of a military serviceman, also credits her work ethic to her father, who was deployed overseas the month after the 9-11 attacks, and to her hardworking immigrant mother, who raised her and her little sister alone while her father was serving overseas.
Now that she's in her late '20s, Cervi plans to relax a little, but still plans to devote herself to the career for which she worked so hard.
"I don't want to let down the people who inspired me and were there for me," Cervi said. "I keep wanting to make them proud."