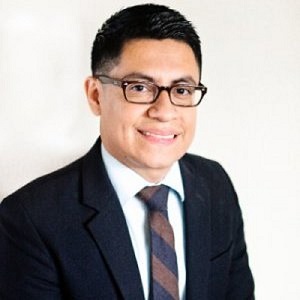 Franco Castrejón
My dad worked in the fields, mainly picking lemons and grapes. When I was growing up, he put me to work doing hard labor and would ask me, quite frequently, if that's what I wanted to do for the rest of my life. I would answer "NO," then he would say, "Ponte a estudiar," which translated means, "then go and study." – Franco Castrejón
"Ponte a estudiar."
Those words resonated with Franco Castrejón at a very young age and have served as a tremendous motivator both to pursue his education and help underserved populations.
Shortly after this early life lesson, Castrejón also found his calling.
"My fourth grade teacher moved me from the front of class to the back and I couldn't see the board," he said. "I got my first eye exam in fifth grade, and the experience catapulted my curiosity in becoming an eye doctor. As I continued to get routine exams, my love for optometry grew."
Castrejón majored in Biology to prepare for medical school and Spanish to improve his ability to communicate. After graduation from CI in 2011, he completed the Doctor of Optometry program at Western University of Health Sciences in Pomona.
Today, he is known as Dr. Castrejón to patients at Heritage Valley Eye Care in Santa Paula. Most of his clients are Spanish-speaking.
"My father was a farm worker when he came to this country," Castrejón said. "My mother a humble seamstress. They didn't know any English, but they taught me the value of hard work and determination. Thanks to them, I'm now a Doctor of Optometry, helping farm workers just like my dad used to be."
Castrejón is married to CI alum Anelieze (Zurcher) Castrejón '08.