Dennise Hernandez
'08 M.S. Biotechnology & Bioinformatics

By Karin Grennan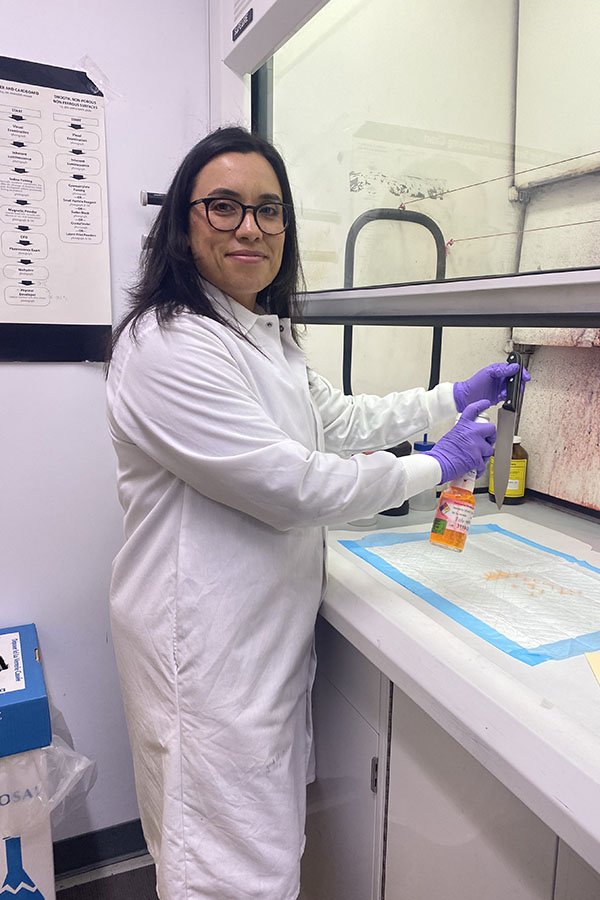 Whenever supervising forensic scientist Dennise Hernandez faces a challenging situation, she thinks back to taking molecular cell biology from Adjunct Faculty Member Bill Tawil while earning her master's degree at CSUCI. It was a difficult class that she thought she was failing up until she got the final grade of A and reassurance from Tawil that she had done fantastic.
"If I can get through that, I can get through anything," Hernandez said. "It was very transformative."
Hernandez grew up in Oxnard, the city where her parents had immigrated to from Mexico as children and where they worked in strawberry fields and a lemon-packing plant. She graduated from Rio Mesa High School and earned her bachelor's degree in neurobiology, physiology and behavior from University of California, Davis.
To see whether she wanted to continue toward her goal of working with animals, Hernandez interned for the U.S. Navy Marine Mammal Program, training sea lions and dolphins to locate mines. Deciding that she would prefer a biotechnology research job, she found one with Amgen in Thousand Oaks. She then completed the graduate program in Biotechnology & Bioinformatics at CSUCI and worked her way up at Amgen from making solutions to serving as a senior associate on a team researching cures for blood-related diseases.
Hernandez left Amgen to care for her children for five years. When she decided to return to work, she wanted to find a way to serve her community that gave her a sense of purpose. A job posting for a fingerprint examiner at the Ventura County Sheriff's Office led her to research the field.
"The more that I read, the more I was like, this is really well-suited for my brain," Hernandez said.
She was one of three people hired out of more than 200 applicants in 2016 to restart the Fingerprint Unit with scientifically trained staff. They trained for a couple of years to learn to collect and evaluate fingerprints, and Hernandez now supervises the unit. Much of her job entails lifting prints from objects, making them visible and comparing them to those found on other objects or in databases. This way, she can identify who left the prints and in what manner they touched the objects. While people might be able to claim that they weren't the ones who left their DNA on objects, that's not the case with fingerprints.
"No one borrowed your hand to put the print there," Hernandez said. "It's a little harder to explain it away."
She also supervises and serves on call for the 24/7 Crime Scene Investigation Unit that collects, documents and preserves all types of evidence immediately after incidents.
"We respond to everything from burglaries to mass-casualty homicides," Hernandez said. "It is pretty cool to know what goes on behind the scenes in all of the cities in my community."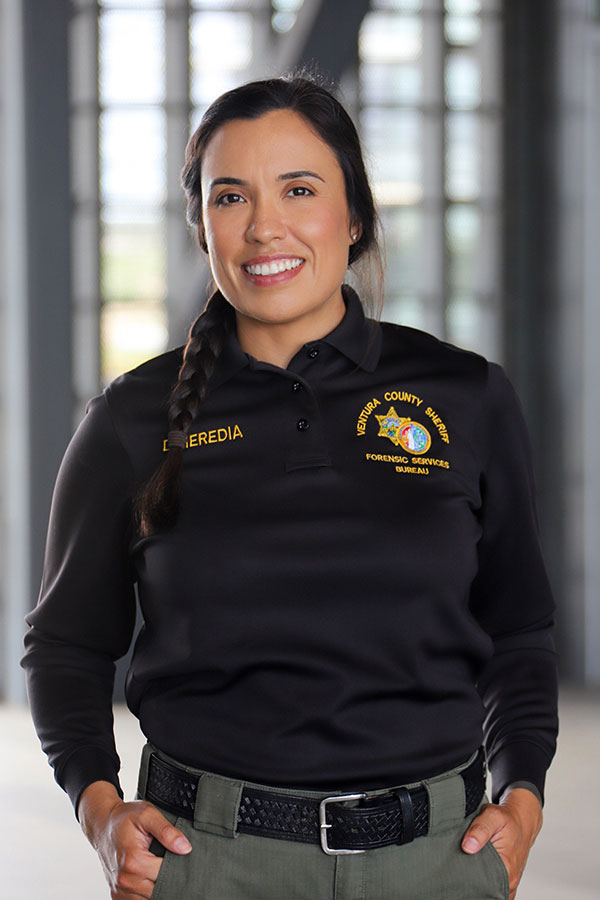 The broad science background she developed during her graduate studies at CSUCI and while earning her undergraduate degree informs her discussions with others in the Forensic Services Bureau, whether she is talking to a controlled-substance expert about the chemistry behind a drug interaction or to a medical examiner about what inflammation indicates about organs.
"It gave me a really solid background in the sciences to be able to hold my own," Hernandez said.
When Hernandez was asked to review an outline for an associate degree in forensic science being developed by Ventura County Community College District, she and other professionals advised that it should focus more on science than criminal justice.
"It's easier to take someone who's a scientist and give them the criminal justice principles versus the other way around," Hernandez said.
Hernandez would love to help CSUCI develop its proposed bachelor's degree program in Forensic Science and perhaps teach in it. She currently draws on the skills she developed at CSUCI to pare down vast amounts of information into engaging reports and presentations and enjoys the process of sharing knowledge.
Hernandez loves her current job, and she feels good about helping her community. But it can be challenging emotionally.
"Some of the stuff that we see is really sad, really bad," Hernandez said. "Anything having to do with family-on-family crime is very difficult. … Suicides are always tough because you are witnessing someone's last scene, someone's last moment."
After 12 people were killed during the shooting at the Borderline Bar & Grill in Thousand Oaks in 2018, she took fingerprints and photos during the autopsies of the shooter and victims. Afterward, it helped her to seek out information about the lives of those who were murdered.
"It was very sweet to see all the stories and pictures that people would share because it was nicer to remember them in that smiling photograph than in the way I was photographing them at the autopsy."