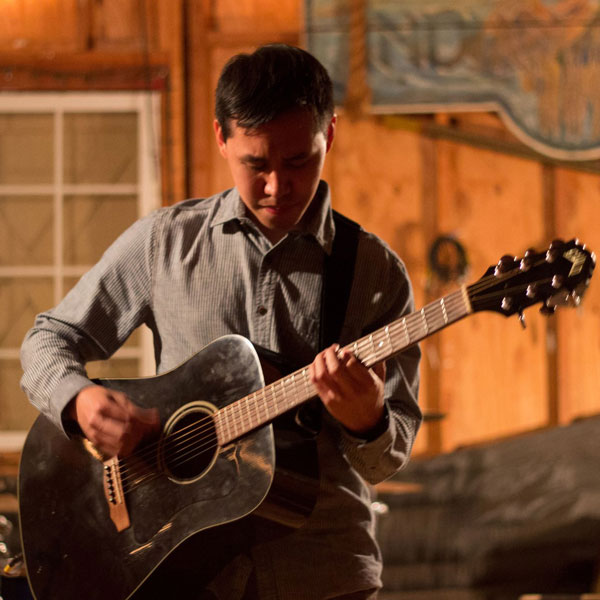 Christopher del Rosario
Christopher del Rosario (2011 B.A. Performing Arts and Psychology) always loved music and playing guitar in bands. But it wasn't until he took a guitar class during his sophomore year with CI faculty member Paul Murphy that he began to see it as more than a hobby.
"Prior to joining the CI family, I had very little formal training in music," he said. "When I came to school here, it was like learning everything from scratch. I took every music class and lesson that was offered at CI. I was constantly feeding my curiosity, which drove my progress and helped me understand the theory, language and practice of music."
Seeing his talent and dedication, CI's Performing Arts faculty encouraged del Rosario, already a Psychology major, to join the program. Del Rosario focused on guitar and voice but also honed skills on bass, drums, piano, violin and ukulele. He enjoyed challenging assignments such as his senior Capstone project – a paper, presentation and performance on the best-selling jazz record of all time, "Kind of Blue" by Miles Davis – that took an entire semester of research and practice. He also had multiple opportunities to perform and improvise on stage with visiting professional artists.
"It was terrifying at times – being on my toes, playing in front of an audience – but it was a great learning experience and it built my confidence up fast," he said.
After graduating in 2011 with dual degrees in Psychology and Performing Arts, del Rosario worked as a behavior interventionist for children with autism. But after a year, he realized his heart was in music. He began teaching private lessons, writing his own original songs, and performing in venues throughout Southern California.
In 2012, he released his first album as a singer-songwriter, "Felt," available on iTunes, Amazon, CD Baby, and at http://christopherdelrosario.bandcamp.com. The album features backing vocals from fellow CI classmate and accomplished singer-songwriter Emy Reynolds and artwork by CI alum Nicholas Mejia.
Now engaged full-time in songwriting, performing, touring and promoting his work, del Rosario reflects on his experience in CI's Performing Arts program as key to his evolution and confidence as an artist.
"One thing I will always be working on is songwriting, regardless of wherever I end up," he said. "CI gave me the chance to nurture my skills in a comfortable environment. The Performing Arts faculty really made an effort to help me succeed. I'm sure they saw potential in my abilities, and by pushing me to do my best, they helped me accomplish a lot during my stay at CI. For that I am eternally grateful."