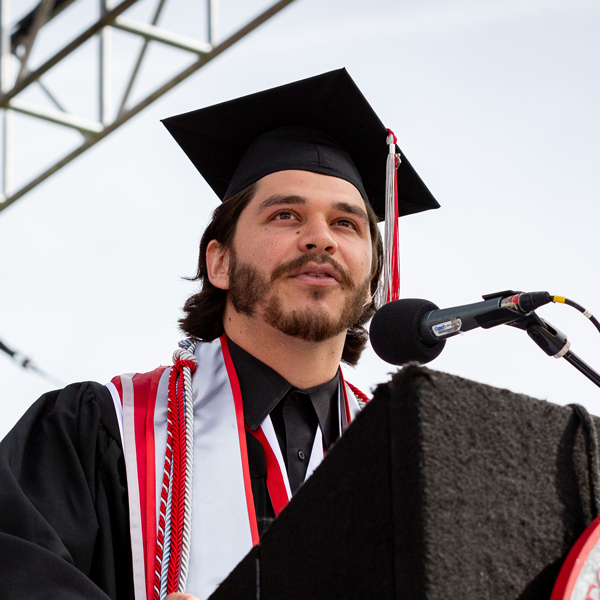 #WeAreStillHere
by Kim Lamb Gregory
Former CSUCI Student Government President Atticus Reyes was in Sacramento in early March when news of the COVID-19 virus started trickling in. Reyes has been a Capital Senate Fellow working under State Senator Ben Allen—(D) Santa Monica since fall of 2019.
Most of his work is inside the capitol building, which is the second most-visited place in California behind Disneyland—which means a lot of surfaces that needed to be sanitized.
"The legislature began to take public safety measures like increasing cleaning staff and instituting safety guidelines and protocols," said Reyes, who graduated in 2019.
When Governor Gavin Newsom ordered Californians to stay at home, the California Legislature convened immediately to vote for a recess. Like the rest of the legislative staff, Reyes would have to work from home.
"I declined to travel back home to be with my family during this time," Reyes said. "Sacramento was hit hard by the virus in the beginning of March, and I was afraid to leave and possibly carry the virus down to my loved ones in Los Angeles; a point which now seems moot as Los Angeles appears to be the new center of the pandemic."
Reyes and the rest of those in the California Senate Fellows program would now continue to focus on their work remotely, all following the lead of their respective senators. But there is still a lot of uncertainty as to what the next session of the legislature will look like.
"Most of the legislature is still unsure if the legislature will return to a somewhat 'regular' session after this recess, if we will run legislation this year, or if the entire session will solely focus on the pandemic," Reyes said. "For this uncertainty many members, including Senator Allen, have directed their legislative staff to still work on legislation in tandem with addressing the pandemic."
Before the pandemic, Reyes was helping to organize and run the legislature's 67-member Environmental Caucus, which was chaired by Senator Allen, and to meet with advocates and lobbyists on a number of issues related to banking, human services, senior citizens, immigration, and those with developmental disabilities.
Whatever the next step is, Reyes' time in the legislature tells him that California has what it takes to meet the moment and protect each community.