Camila Guzman
'18 Environmental Science &
Resource Management
By Stephanie Villafuerte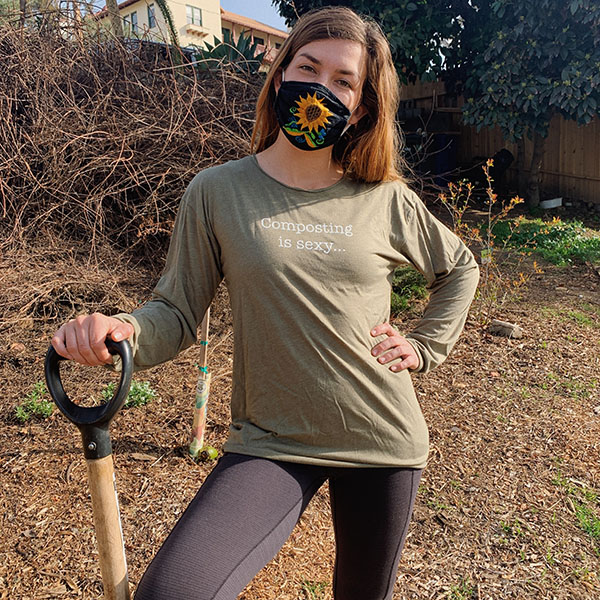 English major, Communication minor
Communication & Marketing intern
Camila Guzman found solace at CSUCI. Through the devoted faculty, the campus influenced her to create her own path to success. It was exactly what the Environmental Science & Resource Management (ESRM) grad sought after dropping out of a previous university due to her mental health.
"CI faculty were super helpful. Whenever I had a problem, there was usually someone to help guide me to find adequate resources that I utilized," Guzman said. "The entire ESRM department was also inspirational. They are so passionate and share their experiences in the field."
When Guzman established her own organization for her capstone project during her senior year, it was because of what ESRM Professor Sean Anderson and Assistant Professor Kiki Patsch taught her.
"In their classes, I learned the best way to learn is through hands-on projects. I often find myself asking questions and thinking creatively when I work outside with natural elements," the 2018 alumna said.
Guzman's project, Queen of Compost, is an organization that recycles nutrients back into healthy soils by using residential food waste from landfills. The CEO explains that aside from her mentors, her interest in the field of composting stems from her early education.
"When I was at the University of Arizona, I learned about soil degradation, GMOs, and the overuse of chemical pesticides and herbicides through their Soil, Water, and Environmental Science program," Guzman said. "The whole soil-food-web system just inspires me to advocate for healthy soils in a time where industrial agriculture has a major impact in our daily lives."
Since its start in 2019, Queen of Compost has assisted more than 200 residents in making use of over 22,000 pounds of food waste. The project also promotes local involvement by teaching workshops and networking with local farmers and landowners for the public.
Guzman's role also involves community and volunteer outreach, composting maintenance, and researching grant opportunities. She admits that running an organization on her own can be challenging at times.
"Although I have a solid crew of volunteers, I struggle with having more consistent staff to help the program operate smoothly," she said. "I also have trouble with land use agreements, reaching capacity with the amount of food waste, and the limited space I have to compost everything. I am just one person, so it can make me feel like all the weight is on my shoulders."
Nonetheless, Guzman feels it is a labor of love. She finds it especially worth the effort when community members discuss how happy it makes them to give back to Earth.
As for the future, Guzman plans to have a team of workers join her side and continue informing the general audience about sustainability and composting. Today, she continues managing Queen of Compost and working alongside nonprofits such as the Center for Regenerative Agriculture and Oxnard Union High School's Farm-to-School program.
"I have a lot to learn as a professional entrepreneur, but I am grateful for the opportunity to get students and residents up in the garden and down in the dirt with me," she said.
Her advice to those interested in composting is to follow your mind and heart:
"New grads: network with like-minded individuals, and when an opportunity presents itself, take the risk because that experience will lead to more amazing opportunities that will continue to grow your strengths and skills. People are concerned about the future of climate change, and a lot of the solutions are hidden in our soils. The best advice I can give is to believe in your passions and dreams, because the world needs more dreamers who do the work to make their dreams a reality."