By Stephanie Villafuerte,
English major, Communication minor
Communication & Marketing Intern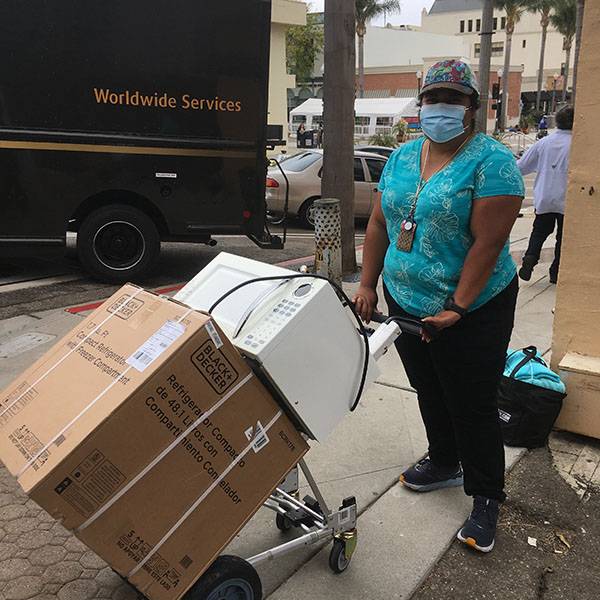 Ventura County has always had Christina Cabral's heart. When the Santa Paula local had to apply for college, she chose CSUCI because she wasn't ready to leave her intimate community just yet. It's a decision she's more than proud of today.
"When I think of my career, I see that attending a local university gave me the opportunity to stay connected to my circle which has now expanded to include all Ventura County," Cabral said. "CI was truly the best choice for me."
The first-generation student double majored in History and Sociology, a passion of hers that blossomed due to CSUCI's faculty. Cabral directly praises History professor James Meriwether for his teachings.
"[Meriwether] taught me that there is power in our history, in recording it from different socio-economic status and the overall art of storytelling," she said.
Cabral says her devotion for social services intensified during her senior year, while taking Sociology professor Dennis Downey's capstone course. She was able to work on a service project at a food pantry in Ventura. The non-profit Project Understanding focused on giving back to families and individuals in need.
"It was my first time working with people experiencing homelessness and, in my opinion, that opportunity was the seed that grew into a passion that I didn't know existed prior to Capstone," Cabral recollected.
After graduating in 2011, Cabral worked for the Salvation Army as a homeless services case manager. She provided shelter for families and single women without homes. The hands-on work made Cabral feel certain of her career choice.
"My job led me to a lot of unique moments and partnerships with community agencies. During that time, I developed relationships within the system of providers, many of whom I still work with, and found myself wanting to pursue a career in homeless services which led to a goal of working within a larger organization."
She now works for the County of Ventura as a homeless services social worker, where her responsibilities can go one of two ways. Cabral will either manage the cases of individuals in search of housing assistance or lead street outreach where her team can help people who are found sleeping in public places not meant for human life.
With joy, Cabral discusses a touching moment she recently witnessed at her job. Her client was a family of six, who previously lived in a tiny single bedroom until she connected them with a bigger home.
"They didn't even have a bathroom or kitchen. They slept on one large mattress and had all their belongings stored in plastic bins that they'd have to sort through daily for their clothes and food. The day those children saw their new three-bedroom apartment that they were moving into for the first time, is a day that I will never forget," she said. "Working in this field can be so challenging personally, but its moments like this that help remind why we are in social work."
It's also with every client that Cabral follows the same advice a previous co-worker shared with her.
"[She] told me to treat people the way I would want to be treated if I was in their shoes," she said. "I know it's something we have all heard before, but I feel like so many of us are one hardship away from finding ourselves in a position where we might need to lean on help from government assistance, so I hold onto that."
Cabral plans to continue working for the County of Ventura under the Human Services agency, with hopes of eventually becoming a lead worker who helps train any new staff members.
She closes with advice spoken from her years of practice.
"Know your priorities. Ask yourself what is most important for you and rank all those responsibilities. It personally helps to keep myself in check and to know my boundaries. In this field, it's so easy to give so much of ourselves, but we are not our best when other priorities in our life are not receiving the time they deserve."