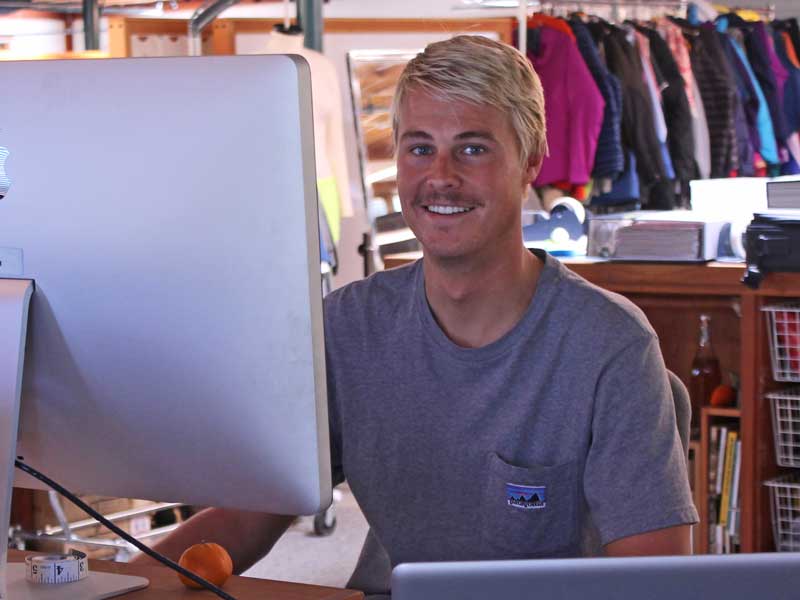 Mitch Bloom
Mitch Bloom (2010 B.A. Art) credits CI's Art Program with helping him land his dream job as a graphic designer for Patagonia.
He spends his days at the company's headquarters in Ventura designing graphics for T-shirts and hats and creating clothing illustrations for the seasonal workbook. As an employee in the illustration/graphics department, he enjoys plenty of opportunities to pursue his love for surfing or rock climbing on lunch breaks.
"CI gave me the knowledge and experience to work confidently in the field of graphic design, both designing freelance or with a company full-time," he said. "The classes and professors brought real-life, relevant challenges that you face once out of school. I found myself working into the wee hours of the night on class projects and completely loving every minute of it."
One of his favorite projects was the "Thrift Store Project" with Art Professor and Program Chair Luke Matjas. Students were assigned to purchase an item from a thrift store and create a book based entirely around that item.
"It was great to see so much variety in a project and how other students took their own routes with themes, writing, illustration, photography, typography, etc." he said. "The passion, energy and individual attention you get from the faculty is outstanding. They are there 100 percent to foster your creativity and success."