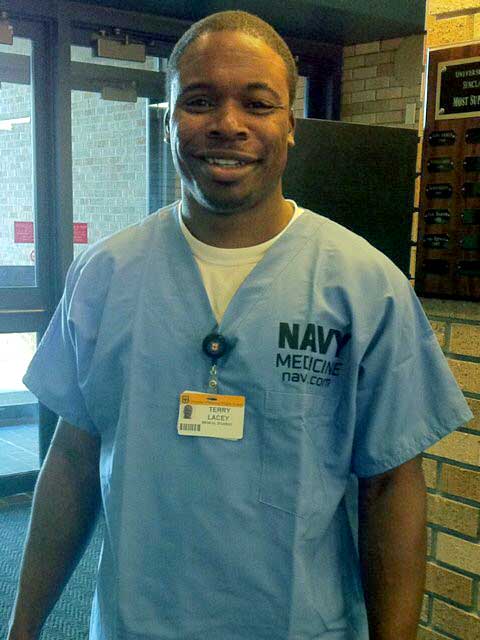 Ontario "Terry" Lacey
Ontario "Terry" Lacey ('10 Chemistry) is a testament to what a self-described "late bloomer" can accomplish.
After dropping out of college at the age of 18, he joined the Navy and became an aviation electrician. In his 30s, he finished college and launched a minor-league football career with a championship-winning team. At the age of 40, he graduated from medical school and started his residency in internal medicine at the Naval Medical Center San Diego as a lieutenant.
"I never rest on what I've done in the past," he said. "I use failure and fear of failure as motivation. I'm always looking ahead to what I want to accomplish."
Lacey grew up in the Tuxedo housing projects of Birmingham, Alabama, the oldest of four children, raised by his mother and grandmother. He was a gifted student and showed an early aptitude for science and medicine – an interest stoked by his siblings' battles with sickle cell anemia and experiences working in the lab of University of Alabama Professor Gail Cassell, one of the nation's leading infectious disease specialists, now at Harvard University.
Lacey was awarded a prestigious Bausch & Lomb Science Scholarship to the University of Rochester in New York, but adjusting to the foreign environment proved too much for him. He dropped out after a year and returned to Birmingham, where he met his wife and joined the Navy.
Over the next 15 years in the Navy, Lacey moved to New Orleans and California, climbed the ranks to supervisor, welcomed a daughter, and launched a minor-league football career. But he never abandoned his dream of medical school. While on active duty at Naval Base Ventura County/Point Mugu, he enrolled in community college. In 2008, he transferred to CI as a biochemistry major.
"CI was a welcome contrast to my experience at the University of Rochester," he said. "The professors were so approachable and helpful. The campus was beautiful. I loved every minute of my time there. I'm very proud I graduated from CI. I tell everybody about it."
Lacey participated in the Louise Stokes Alliance for Minority Participation, performed Alzheimer's research with Associate Professor of Chemistry Blake Gillespie, played football for the West Coast Sharks and the Inglewood Blackhawks, and graduated cum laude in 2010.
He was recruited by the University of Missouri School of Medicine and enrolled in 2011. There he served on the medical school's admission committee for two years, was president of the Student National Medical Association chapter for two years, and received both the Welliver Scholarship in Neurology for Multiple Sclerosis and the American Academy of Family Physicians FHFM summer scholarship.
"I love internal medicine because it's solving a puzzle," he said. "I enjoy interacting with the patients and figuring out how to solve their problems. It's just like 'House.'"
Lacey and his family are pleased to return to California, which feels like home. But Lacey says that's not the end of the road for him.
"I'd like to be the dean of a medical school one day," he said. "If I can come from the projects to where I'm going, anything is possible."