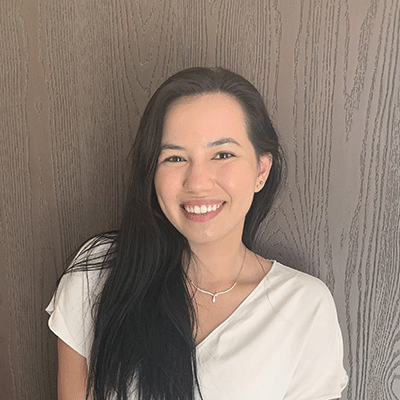 Sarah Sturzenbecher
Class of 2019 Communication major Sara Sturzenbecher, 22, of Pasadena is the first to admit: "Adulting is hard."
But after four years as a full-time student at CSUCI while working two jobs and entering the management trainee program at Enterprise Rent a Car, Sturzenbecher believes she is getting a solid handle on adulting.
"I've got a lot more of a sense of responsibility and maturity," she said. "You deal with cars and customers and insurance. I know so much more now about car insurance."
Sturzenbecher chose CSUCI because she liked the smaller class sizes, which would allow her to focus on her studies and have more direct contact with instructors.
When she enrolled in CSUCI and moved into the residence halls, she had to "adult" almost immediately.
"I think every college student struggles. It's hard to go to school and work two jobs," Sturzenbecher said. "I worked 35 hours a week going to school, working at Jamba Juice and The Habit. I didn't sleep much, but I had to accept that if I wanted to graduate in four years and maintain my expenses, I couldn't be an 'A' student in every single class."
Just before she graduated—in four years just like she planned—she attended a CSUCI career fair and met CSUCI alumna and Enterprise employee Baylee Gerardo.
Collegegrad.com ranked Enterprise #1 in the nation for entry-level hires in 2019 and invites about 20 CSUCI graduates into their management training program each year.
"The great thing about this position is, because we're entry level, it doesn't require work experience," said Enterprise Talent Acquisition Manager Cathy Segovia. "The one thing we do require is a college degree. We don't care what you get your degree in, but we do require a four year degree."
The four years of "adulting" and graduating on time paid off for Sturzenbecher.
"I applied for the job, interviewed and found out I was hired," she said. "I was really happy because I wanted to get a big girl job right after I graduated."
Segovia said Sturzenbecher is excelling in the management training program.
"She's got this competitive drive, this desire to be successful," Segovia said. "She's so receptive and trainable, she's like a sponge."
Segovia said many employees are promoted to assistant manager within a year, and she has every confidence Sturzenbecher can get there, too.
And adulting? Sturzenbecher says it's still hard, but will get her where she wants to go.
"I think a lot of adulting is managing time," she said. "There's so much I want to do, and never enough time!"