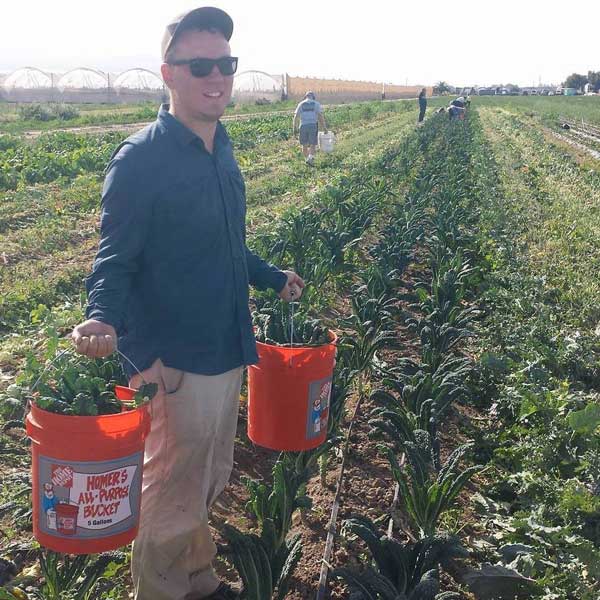 Kyle Jorgensen
Kyle Jorgensen is a productive force in the effort to feed the hungry and end food waste in Ventura County. Since joining FOOD Share as Gleaning Coordinator in 2013, he's rallied donors and volunteers to rescue over 600,000 pounds of fresh fruit and vegetables from Ventura County's backyards and agricultural fields. Those efforts have helped prevent over $1 million dollars' worth of produce from going to waste – and also provided an invaluable and increasing resource for the area's food banks.
"One in six people in Ventura County faces food insecurity daily and 40 percent of food that is grown never makes it to a table," Jorgensen said. "Gleaning is a workable solution. When you're gleaning fruit off a tree, you know that branch is going to help feed a family, and that tree is going to help feed a neighborhood."
That's why Jorgensen has worked tirelessly to expand the nonprofit's gleaning program, enlisting growers and homeowners across the county to donate unused produce on their property, and recruiting and overseeing volunteers to pick the crops.
After volunteering at FOOD Share during and after college, Jorgensen was inspired to make the work a full-time pursuit. The nonprofit regional food bank feeds an estimated 74,500 people a month, distributing food to a network of 190 food pantries, churches, schools, and government programs
An active student at CI, Jorgensen double-majored in Business and Economics '12, where he says he got "a low-cost education and connections that are priceless." Among the highlights, he cites outstanding and supportive faculty, such as Business Lecturer John Griffin, Economics Lecturer Niklas Hunter and Economics Professor Claudio Paiva, along with UNIV 392 international travel courses in Vietnam and Detroit, where he merged valuable cultural and business learning.
"I had many interests in school," he said. "CI let me explore all of them instead of locking me down to just one. I found a network of people whom I still talk to today and have helped me in my career. CI was fun because I chose to get myself involved and do as much as I could when I was there. I miss it dearly."