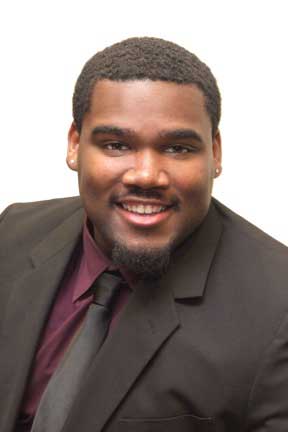 Jevon Wilkes (2012 B.A. Communication) rose from a life on the streets to become a role model and champion for homeless, runaway and foster youth. In roles as executive board member for California Coalition for Youth, program director for Echoes of Hope, and career counselor with the Bresee Foundation, he has mentored at-risk youth and served as a local, state and national advocate. He found his voice as a student in CI's Communication Program.
"I love helping others and CI provided a platform for me to do just that," he said. "CI expanded my self-worth and occupational opportunities."
Born to a drug-addicted mother, Wilkes spent his youth in and out of foster homes, group homes, homeless shelters, and on the streets. After getting into trouble with the law as a middle-schooler, he was assigned community service and found out he loved it. Drawn in by the joy of helping others and the support of caring mentors, he became a keen student and role model.
Upon arriving at CI in 2007 with plans to become a math teacher, Wilkes discovered a flair for communication in Vice President for Student Affairs Wm. Gregory Sawyer's public speaking class. In CI's Communication program, Wilkes gained the tools to nurture and inspire others by sharing his own experience. Throughout college, he tutored and mentored at-risk youth, coached and refereed sports, served on youth advocacy boards, earned leadership and volunteering awards, and dedicated himself to helping others overcome adversity. With the support of Assistant Professor of Communication Tracylee Clarke, he became a certified mediator of small claims court cases in Ventura County and studied restorative justice in New Zealand at the University of Auckland.
"CI gave me opportunities to get involved and be proactive in my educational pursuit, through knowledge-driven, comprehensive, applicable, analytical, and integrated course work," Wilkes said. "To influence positive change in the lives of others through service with love, compassion and empathy is my mission in life."