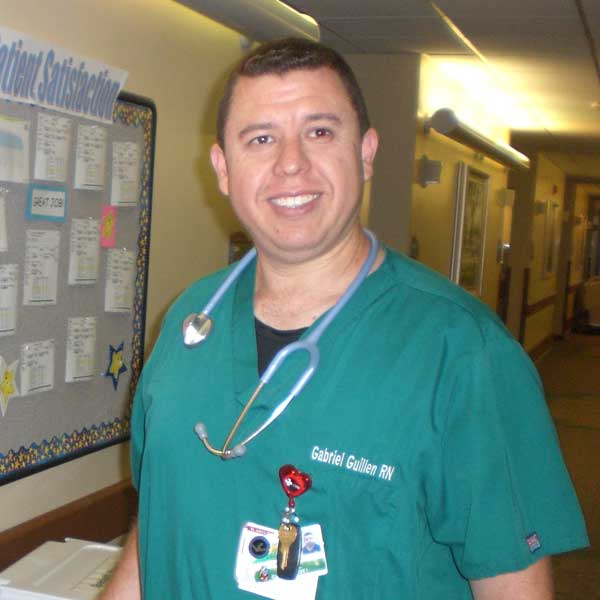 Gabriel Guillen's
Gabriel Guillen's (2011 B.S. Nursing) path to becoming a nurse was at times long and challenging, but the Nursing alum is living his dream of serving people's medical needs and improving their lives.
As the Community Health Education Department Supervisor at Dignity Health – St. John's Hospitals (Oxnard and Camarillo), he manages bilingual health and wellness programs for patients and underserved members of the community, including free or low-cost clinics, screenings, immunizations, support groups, and classes. He also supervises the Faith Community Nurse Network – the only network that promotes the advancement and spiritual growth of nurses in Ventura County – combining a physical and spiritual approach to healing.
"CI helped me achieve my dream of helping my community upon graduation with the correct knowledge of public health laws, guidelines, rules and expectations," he said. "With the education obtained through CI, I was empowered to advocate for those people who lack resources to maintain good health or basic health services we often take for granted."
Guillen came to Ventura County from Mexico at the age of 14, speaking very little English. He quickly showed his aptitude as a student, mastering a new language and graduating from high school in just two years. His family could not afford a four-year college, so he completed community college and sought work in law enforcement as a way to help his community.
"I managed to graduate at the age of 18 from college, being the first in my family to do so," he said. "However, I could not find a police department that would hire me because of my young age and strong accent. I passed many written, physical and agility tests, yet my accent always stood out in every interview."
He spent the next few years working for a paper plant, but always maintained the dream of a career that would serve his community.
At the age of 35, he was accepted into CI's Nursing program, where he cultivated the skills, support and sensitivity to succeed in his current career.
"CI's Nursing program is the best choice I have ever made," he said. "Not only did it help me understand the public health aspect of nursing, it also provided me with an alternative to focus on disease prevention, rather than treatment only. CI offered me the opportunity to advance my career, become a voice for the powerless, and improve the quality of life of the people I touch."