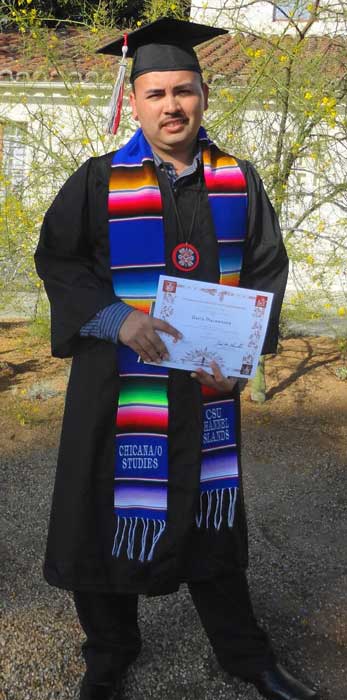 David Maldonado
Evicted from La Colonia public housing in Oxnard when the area was refurbished, David Maldonado, Sociology '15, understands hardship.
"Colonia Village had been our family home for 25 years," he said. "My parents have medical conditions that affect their ability to work, and I have a sister with special needs. I was attending CI at the time and trying to balance studying with work and family. It was so stressful that I started failing my classes. I almost quit."
A first-generation college student raised in a Spanish-speaking home, Maldonado also struggled with English, and he spent eight years working in fast-food restaurants – sometimes full-time – to make ends meet during his time at Oxnard College and CI.
A Sociology major and Chicana/o Studies minor, Maldonado says he's grateful for the professors who served as his role models and encouraged him, and the ways CI is helping perpetuate his cultural traditions. He's most proud of the fact that he never gave up.
Today, Maldonado applies what he's learned in and out of the classroom to his work as a Respite Provider with Channel Islands Social Services in Camarillo. His job includes caring for children with special needs, such as autism, and assisting foster families.
"Helping parents care for their special-needs kids while they take a break is very fulfilling, and the things I've gone through in life have taught me the patience, dedication and understanding needed in this field," says Maldonado. "I try to stay positive, and I encourage people to believe in their dreams because someday they could come true. Never lose hope."