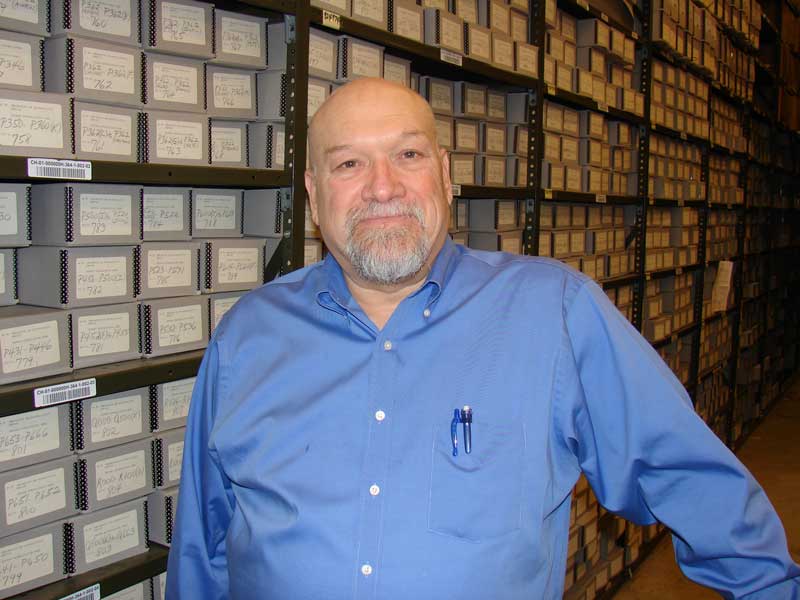 Leo Belleville
When he first saw an original document written and signed by Abraham Lincoln, Leo Belleville, was awestruck. "It was spine-tingling. Your hair stands up on the back of your neck," Belleville said.
When he graduated in 2012 with a degree in History and a minor in Political Science, Belleville, now 56, had no idea his experience at CSUCI would land him a job as an archivist for the National Archives and Records Administration (NARA) in Chicago.
"The historian's craft of critical thinking, complex problem-solving, and writing became essential in my work," he said. As an archivist, Belleville is responsible for about 75,000 cubic feet of records from the states of Michigan, Ohio, Indiana, Illinois, Wisconsin and Minnesota.
Besides Lincoln's original trial documents, Belleville and his coworkers can find records from gangster Al Capone's trial in 1931, documents from the Bureau of Indian Affairs, and details of the Pullman Strike in 1894 that resulted in the death of 30 people, to name just a few of the treasures in the stacks of history.
Opening a box of records continues to be a thrilling experience for Belleville. "It's where the real stories are," Belleville said. "Until you open a box, you don't realize how many stories there are of tragedies, successes, failures — stories that may have never been told."
Belleville, who has held this job since 2016, credits a lot of his success to his internship with the Ronald Reagan Presidential Library in Simi Valley, which he got with the help of the CSUCI History program.
"I showed up at 9 a.m. at the Library for an interview and they put me to work at 9:15," he said. "The Monday after I graduated from CSUCI, they called and offered me a job as a paid employee at the Ronald Reagan Presidential Library. I learned my skills as an archivist there." While interning at the Reagan Library, Belleville went on to earn his master's degree in history from CSU Northridge.
He didn't know what lay ahead when he decided to enroll in CSUCI in 2010 after a career in the aerospace industry and later with the Elections Division of the County of Ventura. He had opportunities to enroll in other universities, but chose CSUCI, and the result was a career he loves.
"The greatest decision I ever made was to go to Channel Islands to get my bachelor's," he said.