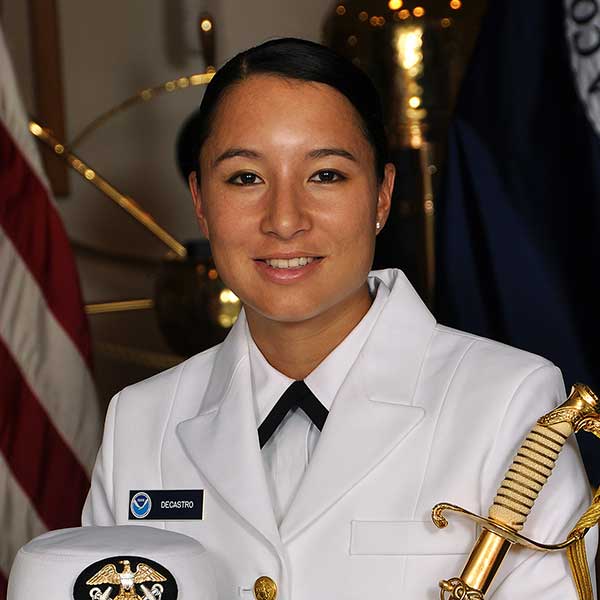 Calandria DeCastro
Calandria DeCastro (2011 B.S. Applied Physics) is a Junior Officer in the National Oceanic and Atmospheric Administration Commissioned Officer Corps. Assigned to the NOAA Ship Rainier, based in Newport, Ore., DeCastro helps conduct hydrographic research, which involves surveying the ocean floor to produce data for nautical charts. In her job, she's continually learning and has tackled training in diving, nautical science, navigation, ship handling, and hydrography.
"I serve as a watch officer in training, and my responsibilities include the safe navigation and handling of the ship while ocean floor surveys are being conducted," she said. "Additionally, I am directly involved in the hydrographic survey projects launched while aboard the ship."
DeCastro says her studies as an Applied Physics major at CI were invaluable.
"Tackling a challenging degree was to my advantage for a number of reasons," she said. "Firstly, it indicated to my employer that I was willing and able to endure some academic difficulty. Secondly, it made the courses throughout training seem less daunting because of my understanding of core scientific concepts. Finally, it incorporated effective study habits into my routine, which allowed me to succeed."
After her stint on the Rainier, DeCastro will get assigned to a new duty station on land, where officers manage shore-based operations on smaller research vessels.
"CI was the perfect school for me," she said. "I received a high-quality education, got exposed to memorable research and encouraging professors, and gained an excellent understanding of physical, chemical and biological processes that I use to this day in my career."