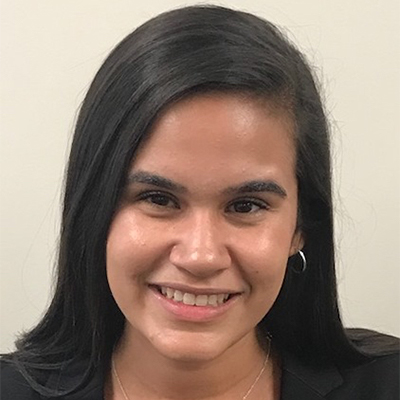 Baylee Gerardo
Class of 2017 alumnus Baylee Gerardo, 24, enrolled in CSUCI as an apprehensive freshman. Four years later, she graduated to become Assistant Branch Manager for Enterprise Rent-A-Car.
"I was just scared because nobody in my family had gone to college," Gerardo said. "I'm super close to my family and didn't want to be away from them."
Not only did Gerardo graduate in four years, she was hired by Enterprise, which collegegrad.com ranked #1 in the nation for entry-level hires in 2019.
About 20 CSUCI graduates a year are hired by Enterprise Rent a Car into their management trainee program, according to Enterprise Talent Acquisition Manager Cathy Segovia, who said many CSUCI graduates have had to overcome obstacles to attend and complete college, and those life skills make for good managers.
"I hear some of these individuals' stories of facing adversity and fighting hard," Segovia said. "That in itself shows their commitment, their grit, their drive. They have all seen that hard work pays off."
Growing up in San Fernando, Gerardo's parents were clear that skipping college was not an option. When it came time, she chose CSUCI as it seemed friendly and the class sizes were small.
At first she was nervous, but there was plenty of support from friends and faculty after she moved into a campus residence hall and began attending classes.
Even with financial aid, money was tight, but Gerardo was able to land a position as a Resident Assistant, which allowed her a meal stipend and free housing. She still had to add a part-time job at Starbucks on top of her full course load.
"There was a semester where I took six classes so I could make sure I graduated on time," She said. "It was hard, but it was doable."
Career opportunity knocked when a friend of her roommate's mentioned that Enterprise was hiring locally.
Gerardo entered their management training program and within two years, was promoted to assistant manager and works out of an office in Van Nuys.
"I'm super grateful," she said. "I'm happy with this company because I know I can move up and support myself financially. They just want to see you succeed."