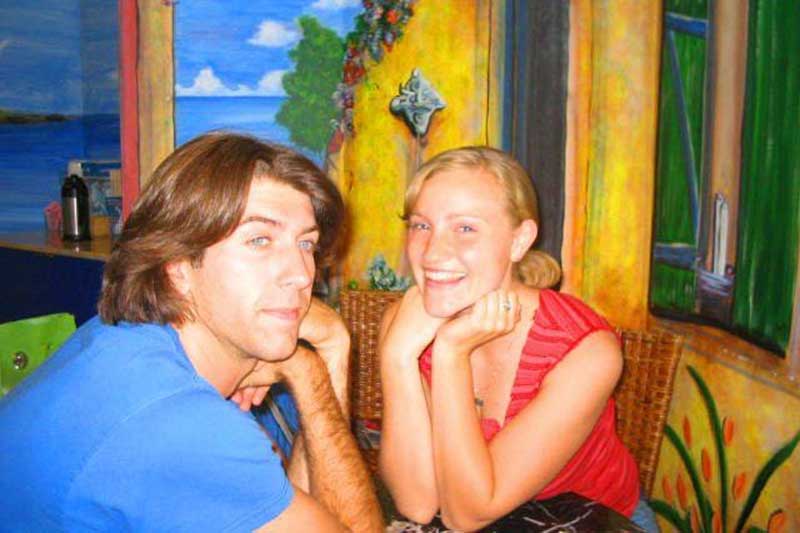 Dynamic Duo
Like so many good stories, Emily (Carroll) (2006 B.A. English) and Nathan McClain's (2005 B.A. English) is a tale of love found, lost, and found again. The couple met in community college, dated on and off, and rekindled their relationship as students in CI's English program.
"We did not plan to go to CI together, it just happened that way," Emily said. "I remember him wearing rose-colored aviators and walking me to my English Lit class. We became friends, found out we had similar goals, and started dating."
Both became inspired to teach by experiences in their classes at CI. Emily credits education faculty member Francisco Garcia with introducing the mantra, "Make a Great Day," which she uses to this day as a teacher. She also fondly recalls her Hispanic American Lit class with Professor Brad Monsma as being intimate and interactive, "like a family arguing around the dinner table." Nathan lauds Professors Bob Mayberry and Joan Peters for challenging him to take risks and become a stronger writer. They also enjoyed opportunities to surf, explore CI's scenic campus, and study abroad.
After graduating from CI, the couple married and took jobs as teachers in South Korea.
"Teaching is a profession that is held in high regard in South Korea," Emily said. "Students bow to their teachers to show respect. It is extremely safe here and students walk around in groups, playing together. People trust each other to take care of their kids, and aren't worried about crime because it is rare; most people don't even lock their doors. It is refreshing to be surrounded by people who love education."
They returned to the U.S. in 2008 to earn master's degrees and teaching credentials in an accelerated program at UC Davis, where they performed student teaching at inner-city Sacramento schools. After completing the program, they headed back to South Korea's Jeju Island to take positions as teachers, boarding parents, coaches and advisors at Korea International School.
They enjoy living and teaching abroad and advising other CI students who are contemplating the same route.
"International schools are proving to be a fantastic opportunity to enjoy the world, save money and prepare for an uncertain future," Nathan said.
"We would like to eventually open a guest house, live in South America, and host exchange students," said Emily. "The English program at CI prepared me to be actively curious and creative in our rapidly changing world."