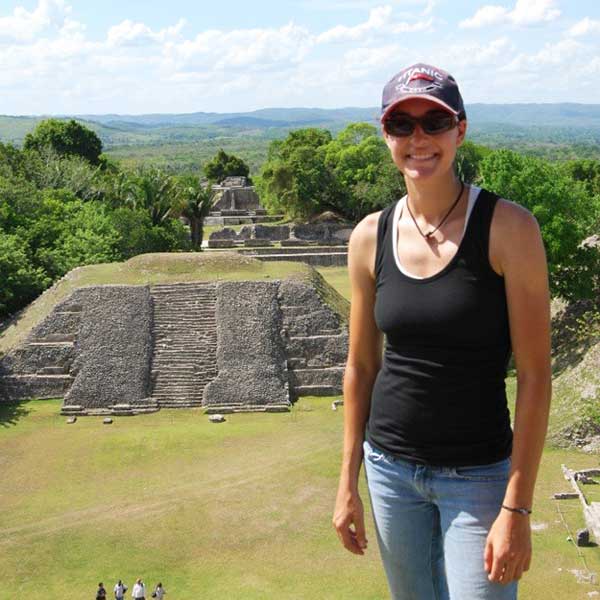 Lauren DeOliveira
Lauren DeOliveira (2010 B.A. Liberal Studies with a concentration in Anthropology) discovered her calling as "a prehistoric detective" while a student in anthropology and archaeology classes at CI.
"I have always been a person that asks the question, 'Why?'" she said. "Why does a culture or person do what they do? In archaeology, I get to ask this question all the time and piece together clues left behind by past cultures. My classes at CI really opened my eyes to cultures outside the U.S. and absolutely played a role in pursuing my career."
Now a Project Manager for Historical Environmental Archaeological Research Team (HEART), DeOliveira monitors large-scale archaeological projects, working directly with local Indian tribes, scientists and construction crews to ensure that scientific and systematic procedures are followed. An expert in coastal Chumash archaeology, DeOliveira conducts site record searches, construction monitoring, site testing, excavations, lab analysis of artifacts, report writing, and briefings. She has led and participated in archaeological investigations for AT&T, CSU Channel Islands, the City of Malibu, California State Parks, and the Santa Susana Field Lab, as well as recognized Indian tribes including the Chumash, Gabrillano, Agua Caliente, and Soboba.
DeOliveira points to several classes and student research experiences with Professor Colleen Delaney as instrumental in preparing her for work as an anthropologist and archaeologist. In her University 498 faculty/student research class, DeOliveira had the opportunity to work directly with Delaney to excavate and identify a Chumash campsite, analyze artifacts, write reports and present her research at conferences.
"I really feel that the University 498 class gave me a major advantage," she said. "I was able to learn survey and laboratory techniques and report writing skills that I still use. I am the type of student that learns best by doing, and this class got my nose out of textbook and let me see and touch artifacts. Those are skills that are invaluable out in the field."
She adds: "I would tell prospective students that if you want one-on-one professor attention and the same caliber of teaching as at an expensive private school for the tuition price of a Cal State, CI is just the place for you."