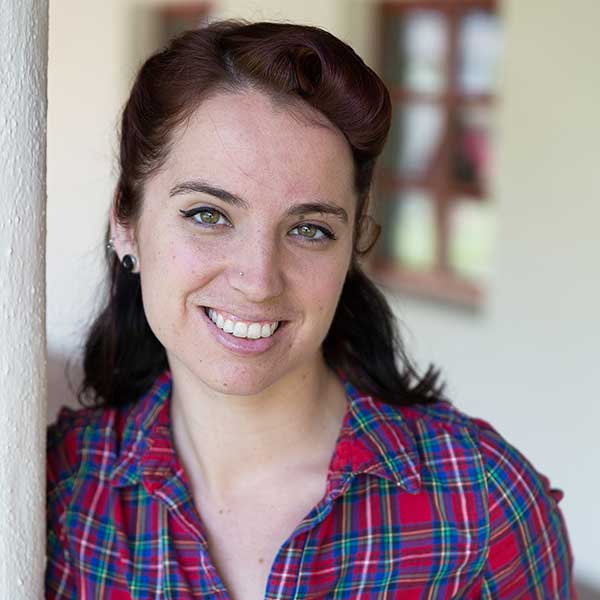 Rachael Jordan
Rachael Jordan can easily relate to the trials and tribulations of her freshmen Composition students. Only 10 years ago, she was one of them.
"I love teaching at my alma mater," said the 2008 English Program graduate. "My students get so excited when they find out I went here for my undergrad because they get to see a CI success story right in their own classroom. I was always passionate and active on campus as a student and it's so fulfilling to be in a completely different role now, adding to students' experience of this university."
After earning her Master's in English from CSUN in 2011 and working as a lecturer in its composition program, she returned to CI in 2012 as faculty. She teaches English 105, English 102 and 103 (Stretch Composition) and sometimes English 107 (Advanced Composition) – required writing courses that allow her to work with new students from every major. It's an important and influential role that she relishes.
"I get to interact with students from across the disciplines, assist them with their transition into college, and teach them the foundations for academic writing and the transferable writing skills they'll need for the rest of their college careers," she said.
Jordan keeps her classes current and captivating by incorporating social media, video and popular culture that students know and use in everyday life. She shows movie clips to practice summary vs. analysis, utilizes movie trailers to teach audience expectation and genre, discusses twitter vs. text messages to help explain genre and communication, and has students practice rhetorical analysis on their favorite song lyrics before asking them to analyze an academic text. In her research, she explores how social networking sites impact students' literacy and their expressions of gender and sexuality.
"I try to always start with something familiar before we move into the academic," she said. "And I try to make it clear from the beginning that I want students to come to me with questions and additional feedback. I know how important making personal connections with my professors was for me as a student to help keep me engaged and motivated for my courses and I want to give my students that same opportunity."