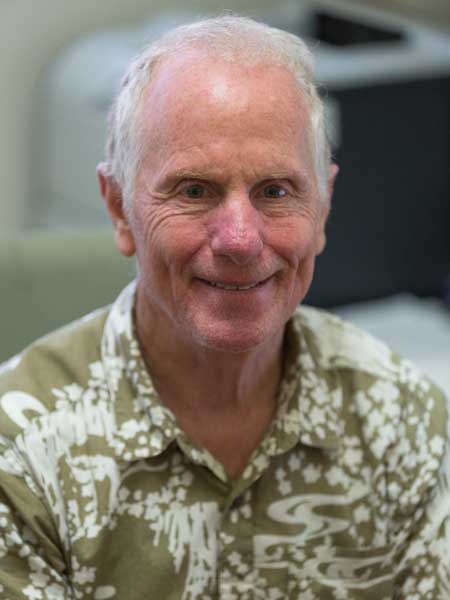 Bob Bleicher
Bob Bleicher is always on the lookout for the next great teacher. An enthusiastic educator himself, he's a passionate advocate for teachers and students alike and infuses his love of the profession into his classes, research and community outreach efforts.
"There is no greater honor, no greater act of importance, than to plan and facilitate learning activities for today's youth," said Bleicher, a Professor of Science Education and former high school science teacher. "There is nothing more real and immediate than sharing 'Aha!' moments with students in a classroom setting."
Bleicher also enjoys encouraging students to pursue their passions as Interim Chair of Undergraduate Programs in the School of Education, where he advises and develops curriculum for over 400 Liberal Studies majors. The major has a Teaching and Learning Emphasis for students planning to teach grades K-8 and a Concentrated Studies Emphasis for students seeking the flexibility to complete requirements for graduate or professional programs that are not represented by CI's current majors.
"For me, the most important thing I can give to students is a love for learning, and an appreciation that we should care about others and the planet we live on," he said.
A faculty member since 2002, Bleicher helped build the credential and Liberal Studies programs. Over the past 12 years, he's developed partnerships with local schools placing CI Liberal Studies students in classrooms to learn from experienced teachers, creating professional learning opportunities for K-12 teachers, and encouraging more K-12 students to pursue science through special camps, stimulating in-school programs, and development of innovative, hands-on curriculum.
He also secured a prestigious $593,000 grant from NASA to engage Ventura County high school students in the science behind global climate change. Bleicher oversees a summer institute, camp, and professional learning workshops that help teachers and their students study climate change using NASA data, research and curriculum.
"Our hope is that we get more students excited about pursuing higher education and careers in science," said Bleicher. "It has been transforming to be part of a pioneering team effort of creating a new university and meeting the needs of our local community."