by Kim Lamb Gregory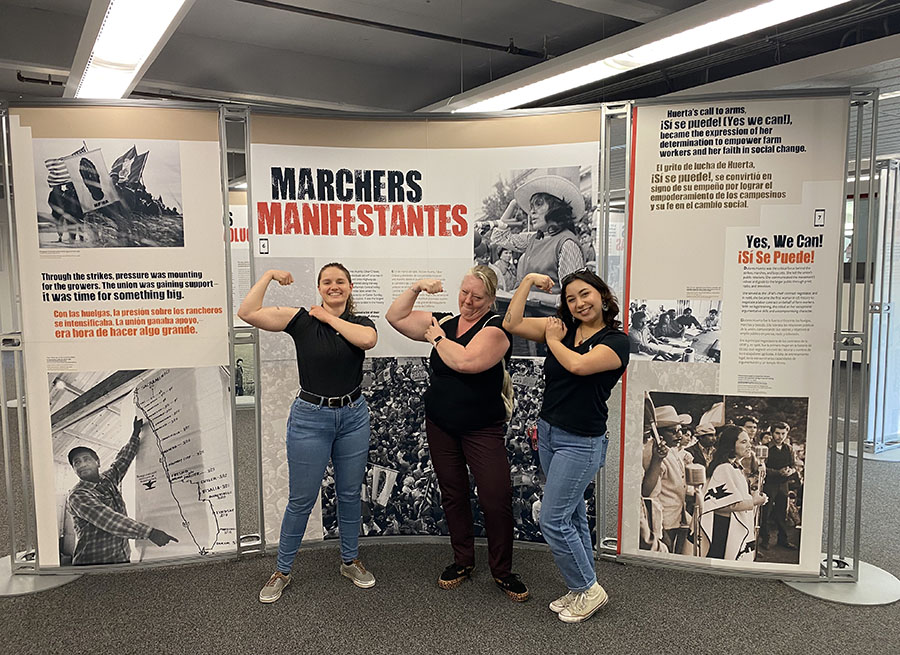 Feb. 28, 2023 - With a traveling Smithsonian exhibit on civil rights icon Dolores Huerta coming to CSU Channel Islands (CSUCI), Assistant Professor of Art History Theresa Avila saw a unique opportunity for her students to learn about setting up an important exhibition while also exploring their own histories.
In late January and early February, several students from Avila's classes, as well as some alumni, volunteered to help set up "Dolores Huerta: Revolution in the Fields/Revolución en los Campos" in the John Spoor Broome Library.
"This gives them professional development in art handling and curation," Avila explained. "They had to unpack the boxes, check for damage, steam the posters (to remove wrinkles and creases) and install the exhibit. And this is a national show."
As student and alumni volunteers from Avila's classes set up the Smithsonian exhibit, they said they felt personal connections with the farmworkers whose rights Huerta was fighting for.
"It's something in our blood," said English and Art History major Rebecca Hyde Gonzales. "My grandfather started a farm in Minnesota and I worked in the fields—long summers working in the fields. I was up at 4 a.m. and my dad drove me to a bus stop where the bus would take us to the cornfields. From when I was 13 to age 16 I worked long, exhausting days until 3 or 4 p.m."
Art History major Catherine Cervantes considered herself "privileged" and didn't work in the fields, but her great-grandparents did work picking grapes.
"We would drive by fieldworkers on the way to campus," Cervantes said. "My great-grandparents never talked about it much and I was too young to ask many questions."
Avila gave students and alumni even more of a connection by creating a local exhibit alongside CSUCI reflecting the regional history of agrarian labor called "Stories of Labor from the Fields of Ventura County," which is in the Broome Gallery alongside co-curator Ilien "La Buffy" Tolteca, a Class of 2023 Art and Chicana/o Studies and Student Government President. The exhibit features a variety of media including paintings, graphic works and mixed media sculpture.
"We did a call for all Ventura County artists with a family history of agrarian labor to submit their work," said Avila, whose grandfather was a farmer in the Imperial Valley. "It's interesting because the agrarian history of Ventura County is more complex."
For example, when farmworkers were striking to gain better working conditions, they felt undermined by the Braceros, Mexican men who were allowed to work legally in the U.S. on a short-term basis because of an executive order from the U.S. government in 1942.
Avila wants to show all aspects of Ventura County's complicated agricultural history, so she has also arranged for a display on local Bracero history.
"I'm interested looking broadly at agrarian history and labor movements that happened and what motivated them because they speak to the industries being developed here and help us understand our ties to broader national history, issues and labor movements that are happening across the country," Avila said. "My hope is that the student participants will develop a better understanding of and appreciation for the community that surrounds the campus."
Among the pieces accepted for the local exhibit were some created by CSUCI alumnus Melissa Olague, who submitted a painting she did of her dad, who drove a tractor in the fields of Ventura County.
Olague also contributed a collection of doilies created by her grandmother in peach, cream, aqua and numerous other pastels, as well as a conceptual sculpture she created herself showing a lamp with a painted blue egg in the center.
"It's an ode to the trauma of our past, which we carry in our genes," Olague said. "But we also hold tools to our healing."
The traveling Smithsonian exhibit, "Revolution in the Fields," will be on display through from March 8 through May 7 in the downstairs gallery. "Stories of Labor from the Fields of Ventura County is in the second floor Broome Gallery through April 14 and the "The Braceros of Ventura County" will be on display in the library's rear hallways from March 8 through May 7.
The University encourages people with disabilities to participate in its programs, events and activities. If you anticipate needing any type of accommodation or have questions about the physical access provided, please contact the respective area below as soon as possible, but no later than seven (7) business days prior to the event/activity: 
CSUCI Students: accommodations@csuci.edu  
CSUCI Employees: christine.girardot@csuci.edu
Members of the Public: titleix@csuci.edu