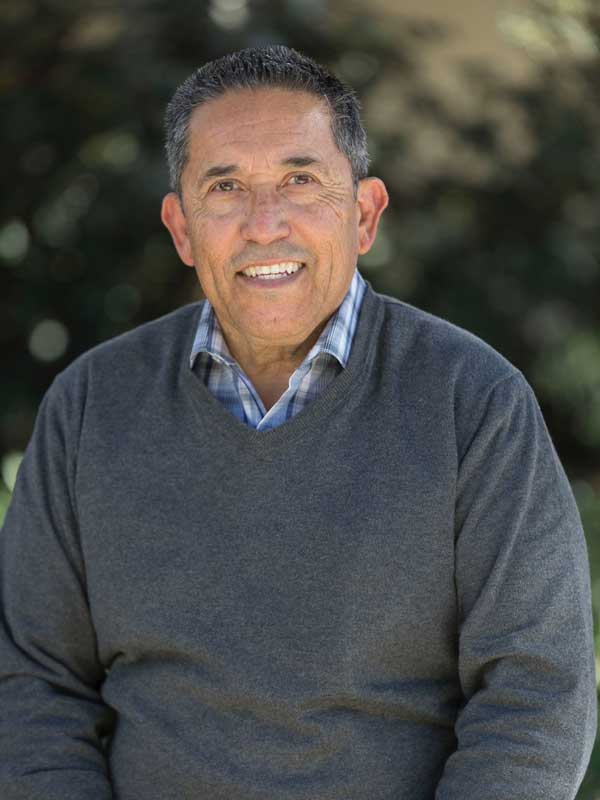 Ray Tejada
Ray Tejada has coached college basketball, taught high school and college in subjects ranging from math and history to physical education and kinesiology, developed district- and county-wide programs for bilingual students, and worked alongside some of the NBA and NCAA's most revered coaches.
Today, he shares his knowledge and experience with students as a lecturer in CI's Liberal Studies program, helping them find "the leaders within."
"As educators, we have a professional responsibility to help students learn and a moral responsibility to take care of them," he said. "A lot of students come to me filled with anxiety and focused on simply executing assignments like robots. I try to help them restore the balance between mind and body – to motivate them to know themselves, learn for their own enrichment, get out and connect with others, and become well-rounded leaders."
Born and raised in Oxnard, Tejada grew up playing almost every team sport possible and assisting his coaches. He excelled in basketball and went on to major in Physical Education/Kinesiology at CSU Northridge. He got his first job out of college teaching math and social studies and coaching basketball at his one-time rival high school, Port Hueneme.
Over the years, Tejada also earned his master's degree, Ph.D. and multiple teaching credentials, and raised two daughters with his wife, Teresa (also a college instructor), while working as a teacher, coach, counselor, and administrator, and volunteering for community sports camps, civic groups and committees.
Tejada is well-known in Southern California for leading basketball camps for legendary NBA and NCAA coaches and players, many of whom he considers friends and mentors. Among the highlights, he's worked with John Wooden, Pat Riley, Magic Johnson, Jim Harrick, Jerry West, Rick Barry, and Larry Brown, and supervised operations for Dallas Cowboys Summer Training Camps in Oxnard.
"The great leaders are driven by their strong character and concern for other people," he said. "It's not about basketball or money. That's just an occupation. It's about caring and participating as a leader in their communities."
In courses at CI, Tejada shares with students the valuable leadership lessons he's learned. Students in his Leadership Capstone course study effective leaders, interview role models they admire, and devise plans and strategies for achieving their own leadership goals. In his course, PHED 302: Motor Learning, Fitness and Development, students observe children in motor learning activities and devise and teach movement activities. They also keep a nutrition and fitness log, to gain awareness of the impact of diet and exercise on their own well-being.
"I've been fortunate to work with students with a lot of potential – who want to come to class and learn," he said. "My 'trophies' are all the students I've had an opportunity to work with and help over the years."