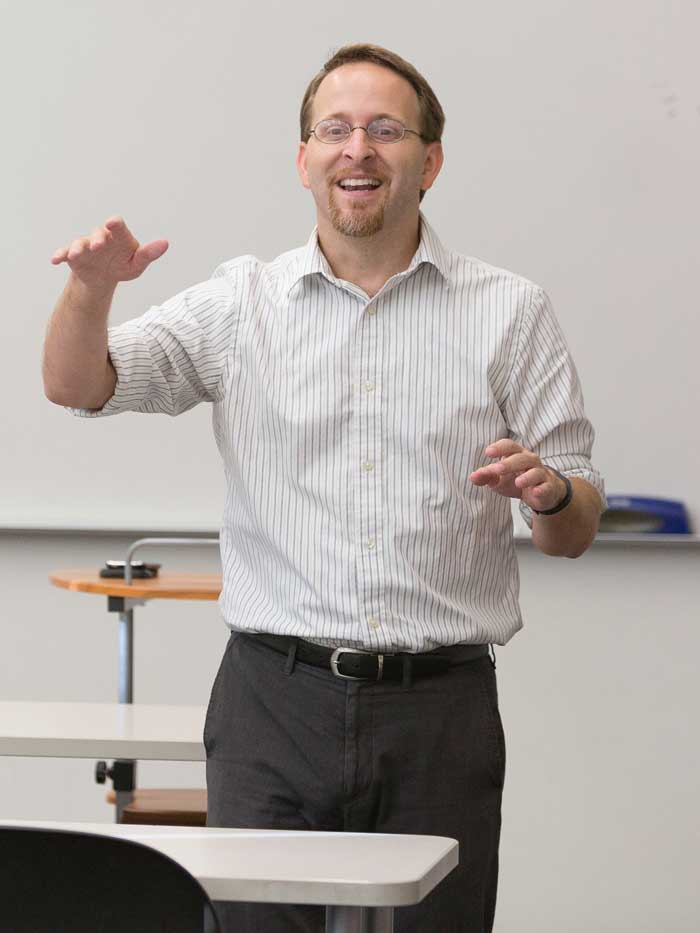 Jared Barton
You never know what Assistant Professor of Economics Jared Barton might throw at you in courses like Principles of Microeconomics and Experimental Economics.
He might kick off a class by loudly proclaiming "I love Econ!" while executing 10 jumping jacks. He's been known to use "Star Wars" characters to explain comparative advantage, or to invoke "Lord of the Rings" when expounding on price controls. And he won't hesitate to answer a student's phone and ask the caller for help with the economic topic at hand.
"Students have a lot of things to distract them—from jobs and family outside of class to mobile apps, laptops, and their peers," Barton said. "To keep their interest, I have to be more interesting than the second-most interesting thing."
That's not much of a problem for Barton, who discovered economics was fun as a college freshman and decided to share his zeal as a professor.
"Economics is great because you can study anything about human behavior you want, and the economic way of thinking gives you a tool to understand it," he said. "You're interested in voting? Let me introduce you to public choice. You're interested in wealth inequality? Meet Thomas Piketty. Economics doesn't require you to be interested in interest rates and stock prices; instead, it changes forever how you think about what you're interested in."
Barton reinforces the human side of economics by engaging students in collaborative assignments that bring economic principles to life. In Experimental Economics, his students choose a famous experiment or topic, summarize the literature on that topic, and then design their own experiment around it. They then present and critique those designs with classmates.
An experimental political economist, Barton researches and writes about topics related to voting, political and non-political persuasion, behavioral economics, and public goods provision.
He loves working with struggling students to help make course material "click." He also enjoys hearing from former students about how his assignments helped prepare them for their careers.
"It's the 'Karate Kid' moment," he said. "They thought they were just doing homework – wax-on, wax-off; paint the fence – and all of the sudden they discover that these skills actually do something."