Coming together while moving farther apart
by Kim Lamb Gregory
As a dancer/choreographer, improvisation is nothing new to Assistant Professor of Performing Arts Heather Castillo, M.F.A., so when all CSUCI coursework needed to go virtual, Castillo put those skills to work.
"We come together for class and there are no phones, no devices, no technology. We listen to music and communicate with our bodies," Castillo said. "I thought 'What can I do to help them keep that sense of community in a virtual environment?'"
Moving classes to a virtual format posed a different challenge for each of CSUCI's faculty members when, under the guidance of the California Department of Public Health, the Chancellor's Office directed all campuses to move all coursework into a virtual environment to keep campuses safe during the COVID-19 pandemic.
It fell to the Teaching and Learning Innovation (TLI) team to take the lead on March 11 with the mandate that all classes be completely online by March 30.
Associate Vice Provost for Innovation and Faculty Development Jill Leafstedt, Ph.D. saw the handwriting on the wall when Duke University moved its China campus online in February, and began preparing the TLI team, so when the order came to go virtual, they were ready.
"The faculty remain in control of their courses with program chairs and deans providing leadership," Leafstedt said. "We have provided a layer of support to help them move in the direction they want to go."
The TLI team are providing templates, course models and are fielding questions for faculty who are redesigning everything from lectures to midterms to labs in a relatively short period of time.
The John Spoor Broome Library team also mobilized to distribute campus laptops to students who needed them.
"We have tried to address the tech equity gaps by working with Information Technology Services to circulate approximately 200 laptops for long term loan to students," said Dean of the Library Alicia Virtue Ph.D.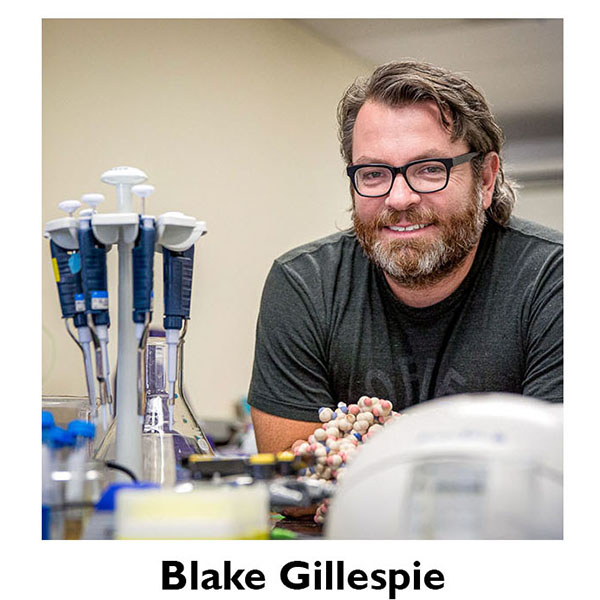 Professor of Chemistry and Program Chair Blake Gillespie, Ph.D. said his program was able to adapt well as many instructors had worked in a virtual classroom. The problem was, how to modify lab work without beakers, test tubes and Bunsen burners.
"What we're still struggling with is the upper division lab work," Gillespie said. "Our upper division labs tend to be research-oriented with instrumentation. Because what they're doing is pretty unique to each student, there isn't a canned online solution."
Gillespie said meetings are still underway to solve the issue, with possible solutions including an online certification program for the instrumentation that chemists use.
Castillo and Performing Arts Lecturer MiRi Park decided to conduct classes via Zoom, and, at the students' suggestion, TikTok, a popular social media platform.
"We're going to create a cool jazz document together. Let's dance together, let's TikTok together," Castillo said on Zoom before dancing across her backyard in sneakers.
Their challenges were different, but Leafstedt said the faculty members' questions followed the same theme.
"Overall, our faculty response was about the students," Leafstedt said. "They wanted to know, 'Are they going to have a place to live, food to eat and medical care? After that, they wanted to make sure the students had access to technology, laptops to do their work, access to WiFi."
In short, the faculty's first concern was the same online as offline: the success of every one of their students.