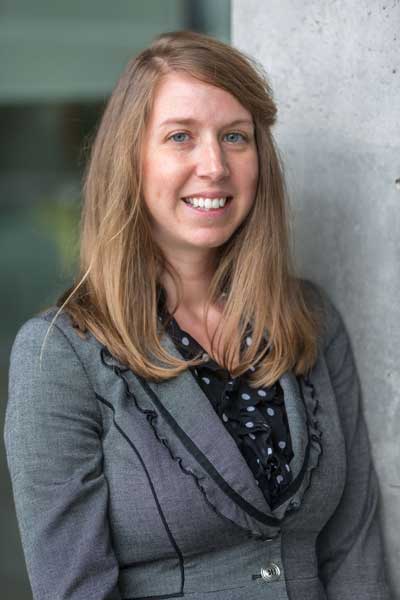 Kristen Linton, Assistant Professor of Health Science
Kristen Linton and her students focus their work on creating a healthy community.
Describe an interesting assignment or project your students might experience.
In my HLTH 102 course, students conduct a needs assessment of a community health issue. Using a participatory photo program called PhotoVoice, they capture and analyze people's perspectives on the causes of health issues in their own community.
In spring 2016, for example, my students conducted an assessment of obesity in a local high school. The high school students believed that the school lunch options were unhealthy. My CI students published an article in the VC Star on their project. After the Oxnard Union High School District nutrition director and farm-to-school coordinator read the article, they met with us to discuss the CI students' needs assessment findings. In collaboration, the farm-to-school coordinator, my CI students, and I have submitted a grant proposal to the Obesity Society to pilot chef demonstrations during school lunch periods in Oxnard Union High School District.
Why is Health Science a good major?
Health Science will not only prepare students to work in a growing industry in health administration, case management, or program evaluation, but it will also help students to understand the U.S. health system better from the patient's perspective.
What drew you to Health Science?
My expertise is disability. My mother was a special education teacher and I started working at a group home for people with developmental disabilities when I was 17 years old. The people I served, along with the failures in the social and health systems that I saw, inspired me to earn my bachelor's, master's, and Ph.D. in social work with a focus on medical social work to improve those services.
What's something that others might find interesting about you?
My expertise in disability issues is inspired by my own unique educational and developmental growth. I did not read until second grade and struggled with multiplication. I learned differently than other students, but I did not quit. I now have a book in-press with National Association of Social Work Press and conduct statistical analyses on data I collect in my research. This experience has taught me that our individual challenges or impairments should not hold us back from accomplishing what we desire.
What's been the proudest moment of your CI career?
I am conducting a pilot study on the impact of a home visiting, Trabajadora de Salud (lay health worker) intervention for Latinas/os with traumatic brain injuries and their caregivers. The pilot results have shown that Latinas/os with traumatic brain injuries who received the intervention had improved functional abilities, depression, and somatic symptoms more than those in a control group. In addition, their caregivers had improved caregiver burden, depression and somatic symptoms more than a control group.
What do you enjoy most about your job?
I like that I can impact the community through teaching with service-learning activities and conducting community-based research.