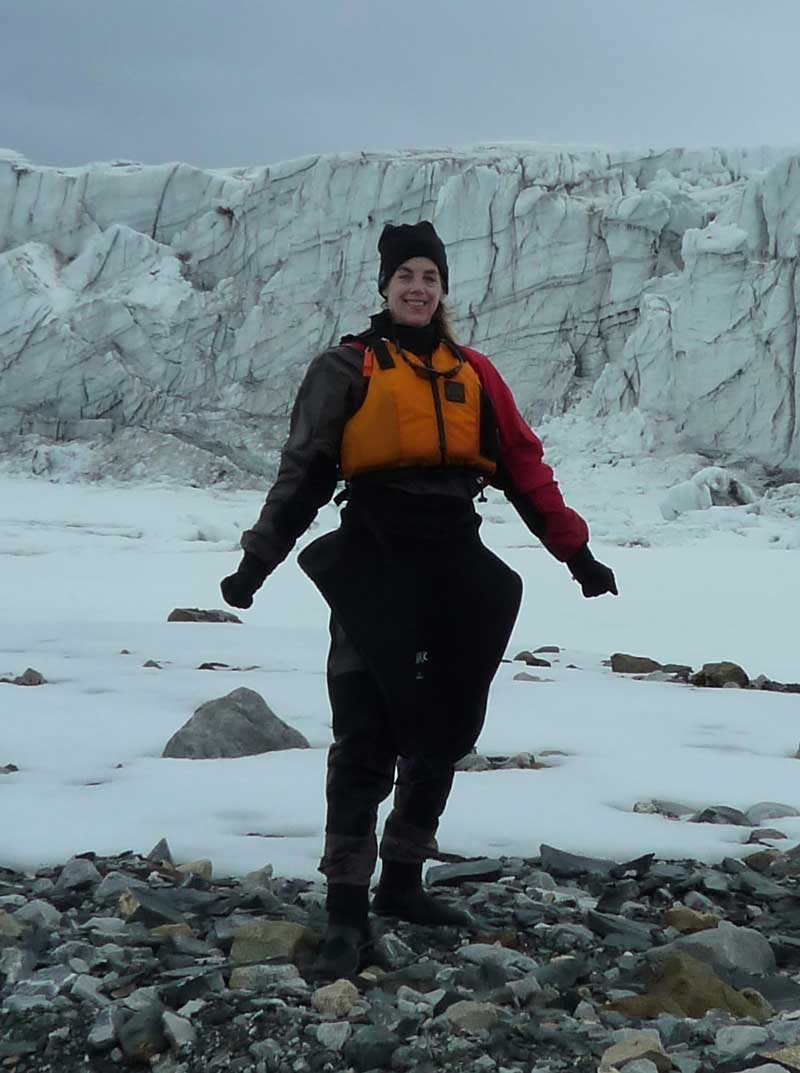 Program Chair and Professor of Biology Amy Denton, Ph.D., wears a silver bracelet engraved with: 80º 6′ 59.04″ N, 12º 8′ 29.04"E. The engraving represents the longitude and latitude of Denton's personal "farthest north," a spot north of the Svalbard (Norway) archipelago in the Arctic Ocean.
Denton's love of Arctic plants has taken her north to research the silent, breathtaking landscape where she photographs, collects and documents plants that thrive in the earth's most forbidding conditions.
"I fell in love with the Arctic because it's quiet and cold; and if you're interested in evolution, the plants that live there live at the very extremes of tolerance," she said.
Denton teaches classes on plant evolution, botany and climate change for CSUCI students and through the Osher Lifelong Learning Institute (OLLI) for community members 50+.
As a child, Denton loved the dinosaur exhibits at the American Museum of Natural History near her native Long Island, New York.
"I loved the whole idea of fossils," she said. "I loved that you could look at and touch something that was alive 400 million years ago, which was the case with plants."
She pursued paleobotany with a bachelor's degree in environmental science/plant biology from State University of New York at Binghamton, then went on to earn a Ph.D. from the University of Washington. A faculty job at the University of Alaska took Denton to Fairbanks where she was able to explore more of the Arctic.
In 2009, she and CSUCI Professor of Political Science Scott Frisch, Ph.D., took a group of CSUCI students camping in the Arctic National Wildlife Refuge where Denton and the students encountered caribou, a brown bear and a wealth of Arctic plants.
"Alpine and Arctic plants are very colorful because they have a very short time to breed to they put a lot of energy into being super-attractive to pollinators," she said. In class, Denton stresses the climate change crisis threatening the Arctic.
"The Arctic is warming twice as fast as the rest of the world," Denton said. "The thing that's scary is that the climate has changed on earth many times, but it's happening so quickly, organisms don't have a chance to adapt."
Denton hopes that educating students about this fragile frontier will help everyone develop a sense of responsibility to protect it.