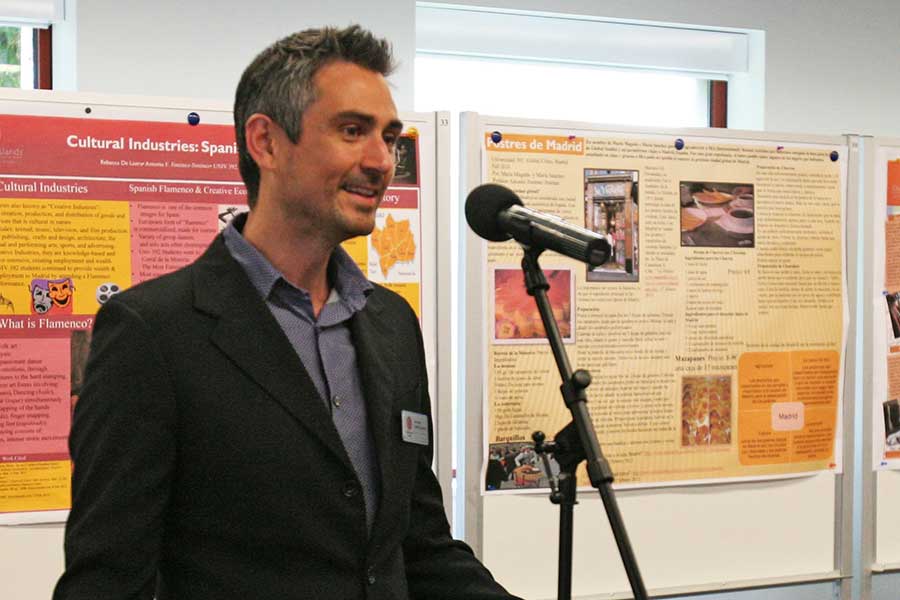 Antonio Jiménez
Growing up in the Mediterranean city of Málaga on Spain's Costa del Sol, Antonio Jiménez Jiménez frequently encountered tourists, who awakened his yearning to experience new nations, languages and cultures.
"I saw how crucial it was to be able to communicate across cultures if we want to advance peacefully and sustainably in this globalized world," he said. "Mastering languages is the first step in that vital process."
Now an Associate Professor of Spanish and Director of CI's Center for International Affairs, Jiménez encourages students to immerse themselves in assignments and travel experiences that connect them with the real world. In addition to becoming proficient in reading, speaking and writing, students in one of his classes might translate materials into Spanish for community partner organizations or travel to Spain or Mexico for intensive study while living with host families.
"Knowing Spanish is very important to be better prepared for the job market, not only in California, but also in the U.S. and the world," he said. "Spanish is the official language in 20 countries and is spoken as a second language by millions of people worldwide. I want my students to think outside their local communities, expand their horizons, and think big. There are a lot of opportunities for them out there and I hope that I contribute to prepare them to achieve their full potential."
A CI faculty member since 2003, Jiménez played a key role in creating the Spanish program, Certificate in Spanish Translation, Global Studies minor and major, and several study abroad programs.
"The Spanish program offers students the flexibility to focus on their areas of interest and also pursue a second major," he said. "Beyond a small number of required courses for the major, most of the courses are electives that allow them to further their knowledge of linguistics, literature, culture, or translation. Also, we offer a good number of study abroad opportunities: for instance, they can go to Chile, Mexico or Spain for the entire year or sign up for a short-term study program that we run in Spain every summer."
One of only two English-to-Spanish translators certified by the American Translators Association (ATA) in Ventura County, Jiménez also heads the ATA's Educators Division – a group he created to support the growing national cadre of translation and interpretation teachers and students.
As Director of the Center for International Affairs, Jiménez leads CI's efforts to internationalize the students' educational experience, promoting study abroad opportunities in more than 20 countries.
"I love when students decide to study abroad," he said. "When they come back, I can see the difference in them, not only in terms of foreign language proficiency, but also as individuals. They become citizens of the world, have a better appreciation of other cultures, can think outside the box, and are generally better prepared for this globalized job market."