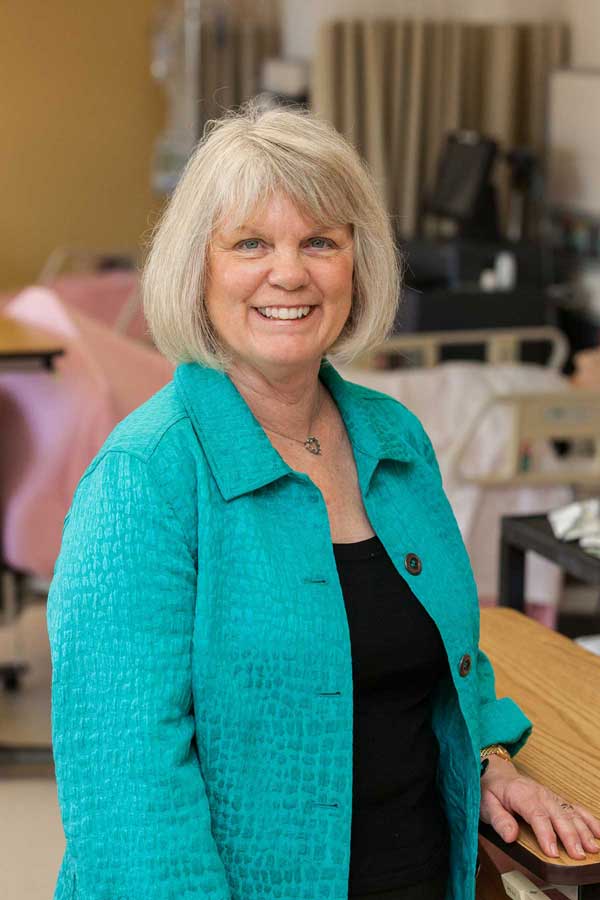 Karen Jensen
A nurse for 48 years, Karen Jensen values interaction with her patients above all else. When it comes to working with students, Professor Jensen who chairs the Nursing and Health Sciences programs, enjoys a similar personal approach.
"I'm not the sage on the stage," she said. "I don't lecture. I always have activities so students can apply what they've read to a practical situation dealing with patients. That helps me get to know them better and stay attuned to their needs."
As founding Director and Chair of CI's Nursing program, Dr. Jensen has helped more than 330 CI graduates launch nursing careers over the past four years. She's also built a highly regarded program – the first and only on California's Central Coast – boasting an 8 percent acceptance rate, a 95 percent retention rate, a 100 percent pass rate on the NCLEX (state licensing examination), and 90 percent employment within six months of graduation.
"I couldn't be prouder of the programs I've developed or the students we've graduated," she said. "As a Ventura County resident for over 30 years, it brings me great satisfaction to know that I helped establish this county's first nursing program. I know when I get sick and go to my local hospital, I will see some of my own graduates. That's very comforting."
Jensen launched her healthcare career during high school in Wisconsin, working as a nursing assistant in a hospital pediatric ward. Over the next three decades, she held nursing jobs in critical care, intensive care, cardiac care, public health, and home health while earning a B.S.N. from Marquette University, and an M.S.N. and Ph.D. from UCLA.
She came to CI in 2006, after previously starting up nursing programs at Mount Saint Mary's College and Moorpark College. After launching CI's nursing program in Camarillo, she oversaw its expansion into Santa Barbara County in a public/private partnership with Cottage Health System.
In 2014, Jensen introduced CI's Health Sciences Program, an experiential, interdisciplinary program offering bachelor's degrees with emphases in the high-demand and rapid-growth areas of gerontology and health informatics.
Though she spends the bulk of her time leading and chairing the Nursing and Health Sciences programs, Jensen keeps one foot in the classroom. Students in her Healthy Aging course tackle assignments that challenge them to explore solutions to issues like Social Security, public pensions, health and longevity by conducting research and interviews and graphing and presenting results. In her Health Promotion and Patient Education course, students develop and deliver presentations on public health topics such as car seat safety or bullying prevention.
"I love teaching and patient care because I'm a people person at heart," she said. "Those interactions make every day different, challenging, stimulating, and rewarding."