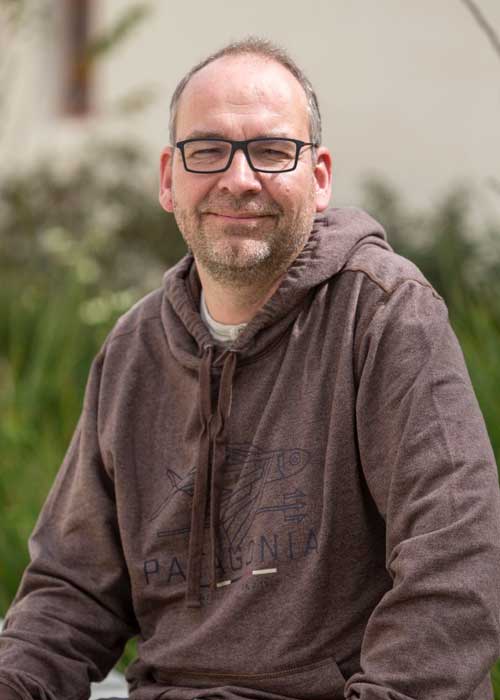 Rainer Buschmann
Professor Rainer Buschmann regards history as a fascinating subject that offers present-day relevance, untold discoveries, and unlimited career potential for students.
"I love history because I learn something new every day," he said. "History teaches you to collect evidence, evaluate the past, think critically about the present, understand chronology and causation, and formulate written and oral arguments. The skill set of a historian is highly valuable in careers in law enforcement, journalism, teaching, government, and law. In short, history provides the essential tools to be successful in the job market."
Buschmann discovered his passion for history as a graduate anthropology student at the University of Hawai'i. While working on his master's degree, he found that many of the best answers to his anthropological questions came from history. After changing course to earn a Ph.D. in History, Buschmann pursued a lifelong interest in how the Pacific Ocean has shaped global history, becoming a leading scholar and author on this largely understudied area in contemporary scholarship.
Raised and educated in Germany, Spain, and the U.S., Buschmann is proficient in six languages and brings a broad global perspective to his role as professor and historian. He has created and taught many of the History program's courses, with a heavy emphasis on world history and interdisciplinary learning.
In History and Psychology of Nazi Germany (co-taught with Psychology Professor Kevin Volkan), students study the historical and psychological roots of the Nazi movement in Germany. Students in his Environmental History course (co-taught with ESRM Professor Don Rodriguez) examine the historical interaction between humans and their environment, from Biblical times through modern-day conservationism. His Historiography course surveys major historians, arming students with the origins and most influential theories in the study of history.
Buschmann takes his role as teacher-scholar seriously. He is the author of four books, with two more on the way, and also serves as editor of the world history section of the journal History Compass. He frequently invites students to participate in his research and writing. Last year, for example, Buschmann co-published a paper with CI senior Rafael Ramirez in the Journal of Pacific History, the leading publication in his field. He's currently completing a book with 2006 CI graduate Lance Nolde, now an assistant professor of History at CSU Los Angeles.
"I would not be where I am today if it were not for the inspiration, education, and guidance extended to me by Professor Buschmann," Nolde said. "His expertise in world history and in ethnography and ethnographic history, and his passion for teaching and research, made him an especially important influence in my education at CI and throughout my career."