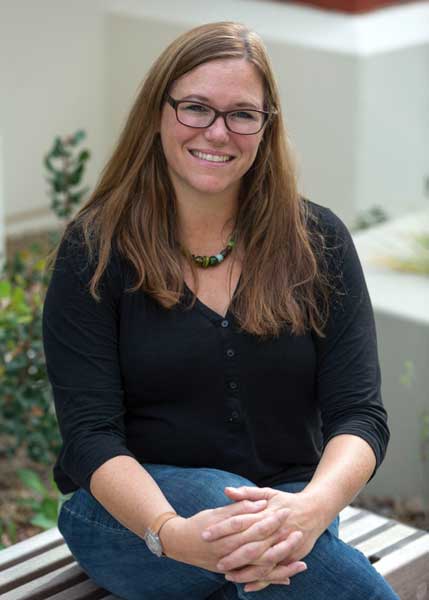 Jennifer Perry
From an early age, Jennifer Perry was an adventurer. On any given day, you could find her exploring the vast wonderland of Anza-Borrego Desert State Park, which abutted her family's home in San Diego County.
"Everywhere I went, there were signs of people and I wanted to know their story," she said. "I was fascinated with the idea that I was walking the same landscape as other people. Even before I knew the term 'archaeologist,' I knew it was what I wanted to be."
Now an Associate Professor of Anthropology at CI, Perry embraces her job as a way of leading students on adventures that connect them to California's landscape, past, present, and future.
"I'm living my dreams," she said. "I get to play in the dirt, work outside, make discoveries, help the environment, and transform students' lives."
Perry's students have helped document artifacts left behind by people who have lived on the Channel Islands over the past 10,000 years. They've also assisted the Channel Islands National Park, providing research and recommendations to support the National Park Service through a longstanding partnership.
"Every student at CI should go to the islands at least once," Perry said. "That one trip can be more transformative than a whole semester in class. For many students, it's the first time they've ever been in a boat, seen dolphins in the wild, gone hiking or camping, glimpsed the Milky Way, or been away from their cellphone."
A research trip to San Clemente Island 23 years ago as a sophomore at University of San Diego unearthed Perry's passion for the Channel Islands. Ever since, the islands have been at the heart of her teaching and research. In addition to involving students in fieldwork and service-learning on the islands of Santa Cruz and Santa Rosa, Perry works independently and with the Park Service to make new discoveries, record and publish findings, develop conservation guidelines, and tell the story of the islands and their inhabitants. Perry's most recent book, "California's Channel Islands: The Archaeology of Human-Environment Interactions," which she co-authored and edited with a former student, provides a definitive archaeological investigation of the islands.
"Out on the Channel Islands, you get to inhabit the past," she said. "It's a uniquely preserved 10,000-year record of the people living there that, in many ways, looks like it did back then. When I find an artifact and realize that I'm the first person to hold it after the last person that did, I feel like I'm making a connection with them. If I can play some small role in helping students make a connection – whether it's with anthropology, their environment, or realizing their dreams – that's what I live for."