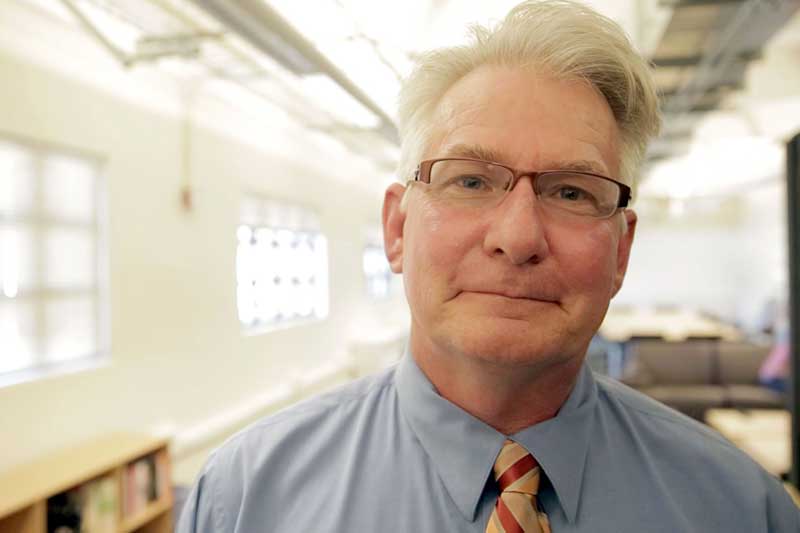 Professor of Management and Business Program Chair Andrew Morris cultivates creative and capable managers by imbuing business courses with biology, psychology, philosophy, history, global studies and the Socratic Method.
What drew you to your discipline and why did you pursue it as a career?
I went back to graduate school and studied organizational behavior (or why are people crazy at work) because I worked in two truly dysfunctional organizations (Federal Land Bank and the U.S. Army). In both organizations there were policies and practices which clearly did not work, clearly caused harm, and yet senior leaders could not or would not change these polices. The inability to adapt and change was amazing and I often wondered how such capable people could make such lousy decisions. I went back to school to better understand "why work sucks" and how science could be used to make work better.
Why do you consider this to be a good major for students?
Business is, of course, the ultimate applied major. Yet, it's not just about making more money. Business matters because increasingly it is important that business organizations have leaders who understand the complex relationships between for-profit organizations and society. CI's emphasis on those relationships (through its four pillars) makes this an especially good place to do that.
Please share something interesting about you.
I've visited 100+ countries over six continents; worked for Volunteers for Peace in a communist country; visited and taught a class in Iraq; bicycled the entire West Coast – 1,200+ miles; hiked 50 miles across the Australian outback; was first in my family to graduate from college; jumped out of helicopters for two years in Alaska as a member of U.S. Army, Air Cavalry; and raised over $100,000 for Habitat for Humanity and the MS Society.
Describe an assignment your students might experience.
In MGT 307, Management of Organizations, students use an online interactive geography game to explore the concept of global awareness and the reasons why knowing geography impacts their ability to make good business decisions. The game taps into their competitive spirit while at the same time allowing me to make an important point about needed management skills.
What have been the proudest moments/accomplishments of your CI career?
I am first author on a paper that has been cited over 2,000 times – a rare event for an academic paper.
What would you say distinguishes your teaching style?
The Socratic Method – questions answered with questions. Sometimes I would kill to be able to tell students that the answer is 2. Yet, business management mostly operates in shades of grey. Often the right answer is contextually dependent and what works for one company may not work for another. What matters is the process. Process is best captured by exploring underlying assumptions – thus, questions with questions.
What is your favorite course to teach and why?
Professional Ethics – MGT 326. First, it appeals to my sense of the absurd; contrary to popular press, professional ethics are not oxymoronic but rather critical to effective management. Further, the amazing developments going on in neuroscience take us from 2,000+ years of philosophy to an understanding of biology which suggests the key role evolution has played in the development of a "moral sense/instinct." The only animal with the capability to ask "Is this the right thing to do?" now must apply this capability to the global organization. Applying the ethical dimension to managerial decision-making is perhaps the most critical thing we can ask of our students for the sake of sustainability.