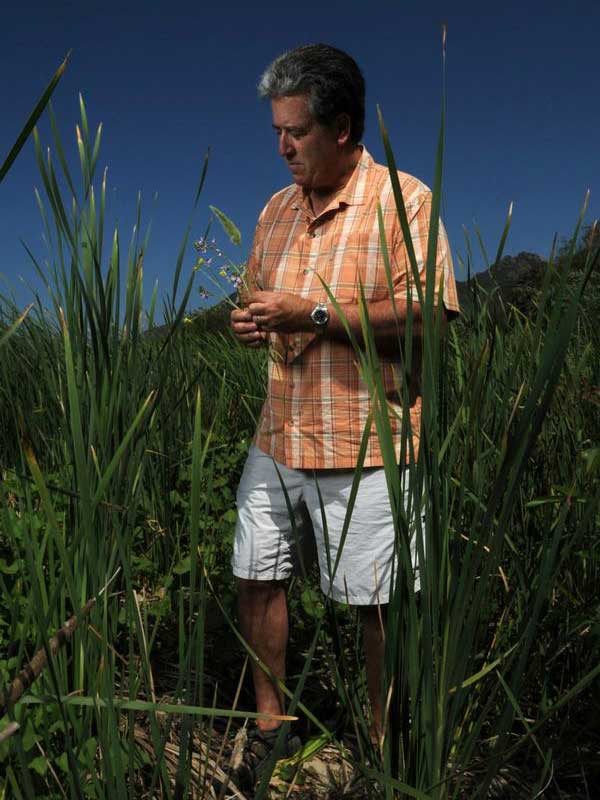 Don Rodriguez's
Students in Professor of Environmental Science & Resource Management (ESRM) Don Rodriguez's classes have restored wetlands in Mexico, inventoried sea turtles in Costa Rica, removed invasive plants on the Channel Islands, and performed GIS mapping of Southern California's beaches.
Ever since his first taste of field work as a wildlife zoology major at San Jose State University in the late 1970s, Rodriguez has been "hooked." He enjoys passing that passion on to students in courses ranging from Introduction to Environmental Science & Resource Management to Environmental History and The National Park, where he combines classroom learning with field-based service-learning.
"I feel one of the best ways to prepare students for the challenges that life will place before them lies in integrating the community with their academic experiences," he said. "Our students benefit from practical opportunities to prepare for the world they will enter and our community partners benefit from the support of concerned and involved students to handle issues they face daily."
With CI's location providing a rare and valuable blend of coastal, wild land, urban and agricultural environments, Rodriguez finds countless opportunities for ESRM students to tackle complex global environmental challenges right in their own backyard.
"CI's location provides students with unique experience and limitless opportunity to examine our influence on the natural world and participate in solving the problems it poses," he said. "Our students are very successful at finding jobs within the field, with an employment rate well above 85 percent after they graduate. They are well-prepared for work in federal, state and local public agencies, private sector consulting, water management, and in education."
Rodriguez has focused much of his career on natural resources management in parks and protected areas – work that takes him from California to places like Australia, Belize, Costa Rica, Ecuador, Italy, Guatemala, Mexico, and South Korea. As a founding member of the Society for Conservation Biology's Urban Ecology group, a member of the World Commission on Protected Areas, and a member of the International Union for the Conservation of Nature, he's helping lead the way in examining the relationship between urban protected areas and surrounding landscapes. In a recent fellowship as a visiting scholar at Stanford University, he analyzed best practices throughout California for overcoming challenges to ecosystem integrity from urban landscapes.
A first-generation college graduate, Rodriguez proudly works with colleagues and community partners to diversify STEM (Science, Technology, Engineering and Mathematics) and natural resource management fields. He has led and co-authored over $7 million in successful grant applications to attract and support STEM students of all backgrounds at CI.
"Having the chance to be part of the creation of a new University has been the highlight of my academic career," he said. "CI has provided so many unique opportunities, such as helping to create the Santa Rosa Island Research Station, taking students to Mexico and Costa Rica for field study, exposing students to protected areas like Yosemite and the Channel Islands National Park, and engaging them as active learners in our community. It's a dream job for me."