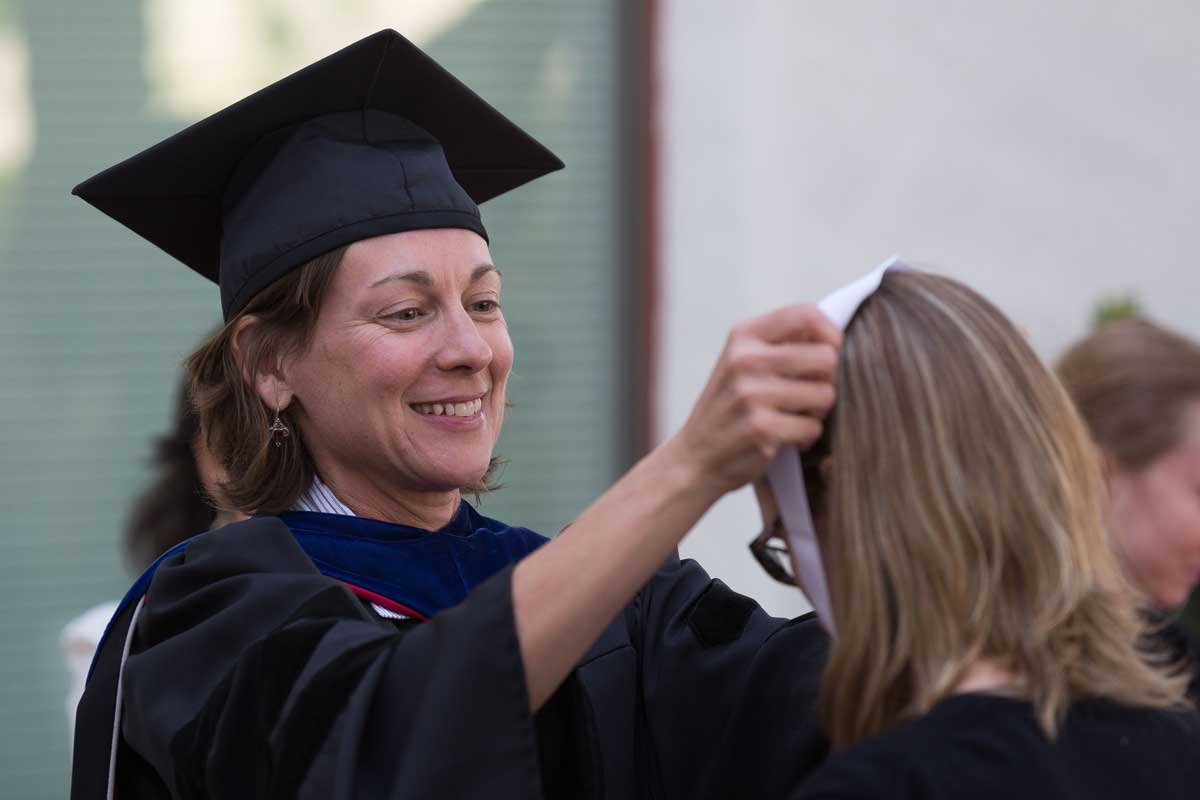 Andrea Grove
If you long to see the world, immerse yourself in foreign cultures and tackle international social, political and economic challenges, Professor of Political Science and Global Studies Andrea Grove's classes are for you.
Since joining CI's faculty in 2006, she's inspired countless CI students to experience the world as global citizens.
"Dr. Grove pushed me to reach farther than the comfortable and ordinary, and showed me that there is a part of the world that can never be adequately described; it can only be experienced," said 2012 graduate Andre Ross, now with the Peace Corps in Ethiopia. "She instilled in me a passion to travel not simply for the novelty of a change in scenery, but to learn what there is to learn from others informed by their own unique cultural contexts."
Grove encourages undergraduates to take an active role in understanding and solving the world's most pressing problems, whether leading CI's champion Model United Nations team or shepherding students to South Africa to study post-apartheid politics with husband/colleague Christopher Scholl.
"I think the Global Studies Program provides a great path for students who seek an education for a purpose that is higher and broader than their own individual well-being," she said. "There is so much going on in the world that we can act to change, and there are many examples of positive change through people working together. I wanted to learn about these challenges and possible solutions, and motivate others to want to make a difference too."
Growing up in an Air Force family, Grove moved around frequently and enjoyed learning about new cultures. In college, she studied political science and international relations, intending to become a diplomat or policy analyst. While performing her graduate teaching duties as a Ph.D. student at Ohio State University, she found her calling.
"Initially terrified at the thought of standing in front of a huge number of students, I found that I loved it," she said. "That changed everything about my future plans, and when I went on the job market I sought out a position at college or university where teaching was the central focus."
At CI, she's been able to fulfill that dream. In addition to co-founding the award-winning Model UN team with Scholl, serving as faculty director for CI's Center for Community Engagement from 2005-2010, and now faculty director of CI's California Institute for Social Business and the Center for International Affairs, advising CI's Mortar Board and political science honor societies, publishing books and journal articles, and helping create the Global Studies major, Grove has designed courses that immerse students in deep discussion and debate on critical issues at home and abroad. In the Global Studies capstone course, GLST 499, for example, students study abroad and create an event, such as a public awareness campaign, teach-in or lobbying effort, in which they raise recognition of a problem facing that community.
"A major like Global Studies prepares students for just about any career," Grove said. "It provides an opportunity for students to develop understandings of the value of other cultures, how to work with people who see the world differently, and gain knowledge that contributes to awareness of pressing global issues. They will learn how to conduct research, how to write, how to communicate—even in a second language. They will learn how to interact with people from different cultures and backgrounds. In today's workplace, no matter what job you have, you need to do that."