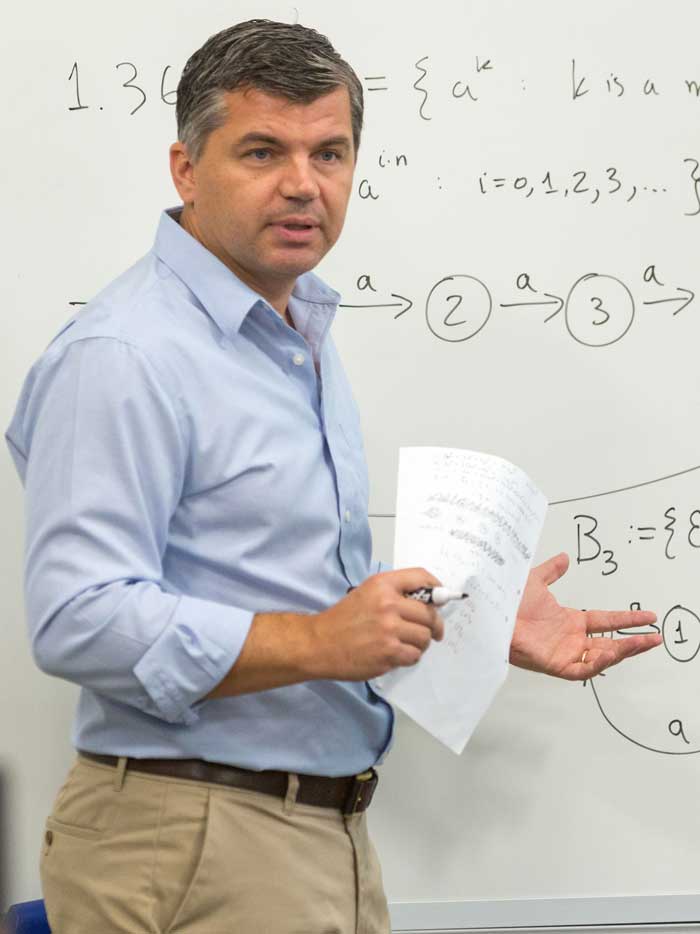 Michael Soltys
Chair and Professor of Computer Science Michael Soltys enjoys introducing students to a field that's creative, challenging, fun and filled with promise. "In the next decade, there will be four times as many positions for computer scientists as graduates," he said. "The salaries are competitive and the field never gets old. There are always new problems to be solved, new code to be written, and new apps to design. In our information-based economy, every industry, from airspace to banking to construction, needs computer expertise."
He spreads his enthusiasm to students through courses such as COMP 424, "Computer System Security," in which he teaches them how to defend a commonly used encryption system by learning the techniques that hackers use to break in.
"In the process they learn how to protect their data," he said. "They get really addicted to trying to find a way in."
A native of Poland, Soltys grew up in Spain and Canada and is fluent in four languages. He earned his bachelor's and master's degrees in Mathematics and his Ph.D. in Computer Science and Mathematics from the University of Toronto, regarded as the birthplace of theoretical computer science, where he also launched his teaching career in 1999.
Soltys joined CI's faculty in 2014 after serving as professor and chair of the Department of Computing and Software at McMaster University in Canada.
Since arriving at CI, he's engaged students in researching cyber-security and algorithms, taking a team approach to tackling hard problems.
"I love interacting with students, brainstorming a solution on a white board together, being creative and bold in discovering new properties, and succeeding at the end in publishing something that others will find useful," he said. "I'm excited to be helping build a world-class, student-oriented Computer Science program at CI."