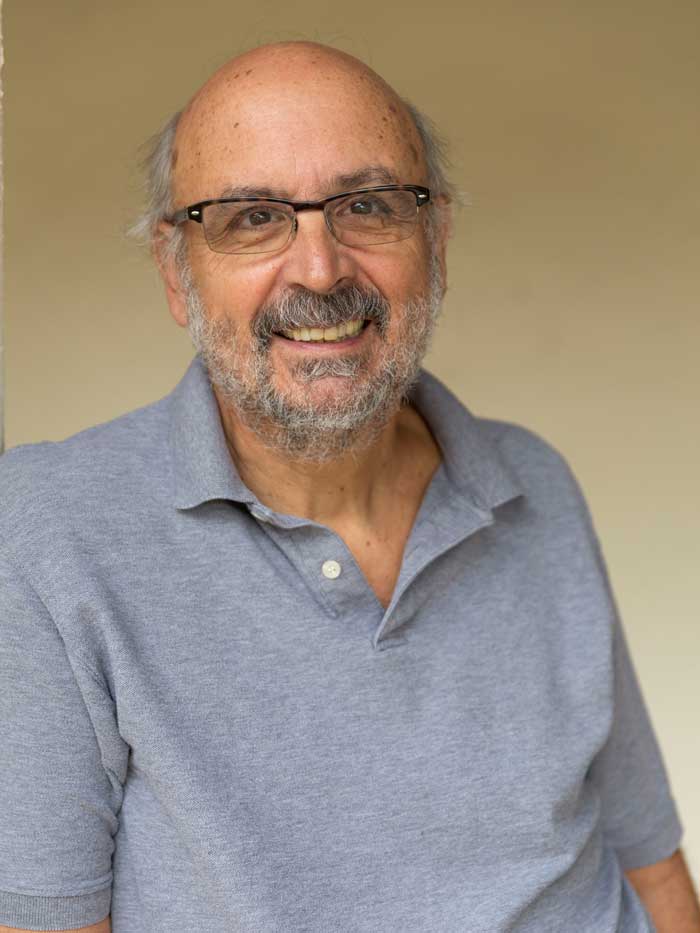 Bob Mayberry
If you ask CI students what they think of Associate Professor of English Bob Mayberry, you'll hear superlatives such as "unique," "offbeat," "inspiring," and "addictive."
A self-described "ham," Mayberry brings a theatrical approach to his classes, sharing a passion for writing, reading and performing that's contagious.
"Once you have experienced one course with him, you'll want another," said Gail Weinstein, a 2014 English program graduate. "My recommendation to any student in any major at CI is to sign up for one of his classes. His enthusiasm for education, his proclivity toward the offbeat, and his willingness to believe in each of his students individually sets him apart from so many other professors."
In courses like "Shakespeare's Plays," and "Writing for the Stage," Mayberry's students attend theatrical performances, dissect plays, and perform scenes, converting "near-sacred" literature into relatable texts. His classes are friendly, interactive, and animated – inviting even the most reticent students to participate. Mayberry also is beloved for his no-stress grading policy in writing-based courses. Each student starts with an "A," and receives a lower grade only after missing assignments and deadlines or disrupting others' learning.
"When I first began this experiment, I worried that the quality of work would decline," he said. "It hasn't. If anything, it has improved, because students are free to express their own attitudes toward the works we study without worrying that I will censure or disagree with their interpretations or analyses. A recent graduate in our program told me, 'I worked harder on papers for your Shakespeare class than for any other.' When I asked her why, given that she wasn't being graded, she said, 'Because I had to please myself.'"
Mayberry's belief that a student's education should be a gratifying and empowering self-exploration comes largely from his own experience.
He grew up loving reading, writing, theatre and performing, and was drawn to teaching English and drama. After earning his Ph.D. in English from the University of Rhode Island and working for several years as tenure-track faculty, he missed his life as a creative writer. So Mayberry resigned from his professorship and went back to school to earn his MFA in the University of Iowa's Playwrights Workshop.
"It was the defining decision of my career," he said. "For three years I ate, drank, slept, and breathed theatre. I wrote a half dozen plays and three dozen short theatre pieces, directed a play written by a fellow playwright, and acted in a dozen productions. I learned more in those three years about theatre, about writing, and about myself than I had in my entire life up to that point. I successfully turned my dearest avocation into a vocation."
Ever since, Mayberry has been a triple-threat as a prolific writer, director, and professor. In 2011 and 2012, he realized a life-long dream by directing and staging a series of plays he wrote telling the story of the Donner Party's tragic wagon journey across the Nevada desert and Sierra Nevada mountains. "The Donner Party Cycle," which Mayberry began writing in 1985, was performed by students and alumni at CI's Malibu Hall and supported by the Performing Arts program.
Mayberry has published a book, numerous poems, plays, short stories, articles, and reviews, while also teaching college and directing plays. He's also won awards for teaching and writing, including a 2005 Maximus Teaching Award bestowed by students on a most beloved faculty member, which he describes as the "high point of his career."
"I've been fortunate to be able to talk with students about the things I love most: stories, poems, and plays," he said. "My job feeds my imagination, and because students always surprise me with their insights, their witticisms, and their questions, I have never been bored in 30-plus years of teaching."