By Kim Lamb Gregory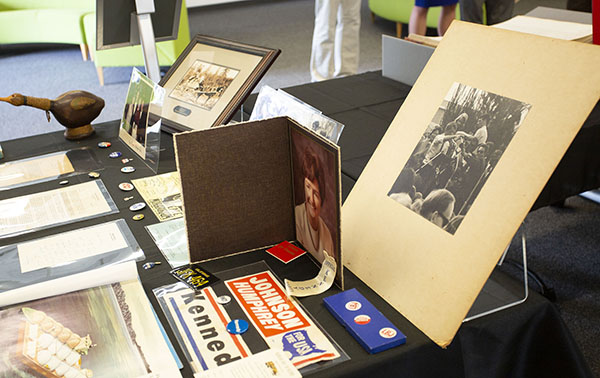 Treasures locked in the basement of the John Spoor Broome Library will now be easily accessible to CSU Channel Islands (CSUCI) students, faculty and the community thanks to new cutting-edge equipment purchased with a generous gift from a donor.  
"It's going to open up our university collection so it's more useable," explained Digital Curation and Scholarship Librarian Elizabeth Blackwood. "Additionally, with its being mobile, we're going to be able to do outreach to the communities to build more interest in the history of our area." 
It's called the Mobile Archive Collaboratory and it consists of a high-powered mobile scanner called the Bookeye, which can scan 300 pages in 10 minutes, as well as tables for work areas, lights, chargers, cameras and 30 iPads to enable students to digitize historical documents. 
Blackwood spearheaded the Collaboratory concept, which is possible because of a $100,000 donation from Linda Dullam, a CSUCI Foundation board member and longtime friend to the university.  
Dullam attended an August 17 demonstration of the Collaboratory held for campus and foundation members and other friends of the university in the south wing of the library, including others critical to the success of the Collaboratory including Library Specialist Evelyn Taylor and Collections and Program Development Librarian Steve Stratton . 
Dullam holds a degree in Art History and has deep roots in Ventura County, so helping to make the Collaboratory a reality was a joy for her, she said.  
"Being a history person, I am excited that students will be able to study what the county looked like and what was going on 150 years ago here, and what we looked like across the country," she said. "This will help us to understand and realize that history and political science are real— not just a sentence in a book." 
Faculty members teaching History, Art and Art History, Political Science and Chicana/o Studies as well as other disciplines are well aware of the richness that comes with giving students close contact with items and documents that weave the fabric of history. Campus educators have long expressed a wish to bring their classes to Broome Library to work with the archival collections stored in three rooms in the basement of the building.  
The process used to be difficult to navigate because of inadequate digital, optical and computing technology and limited space to accommodate a class size of 30 students, but the new Collaboratory will now be available for students who want to learn to digitize historical items and documents, and for those who want to study what already is housed in the library. 
"Some of the students will be here handling the physical material as part of archival studies, whereas other students will be here handling the material to digitize it and work with it online," explained Dean of the Library & Learning Resources Alicia Virtue, Ph.D. "Then we can put it all away, lock it up and use the space for general studies purposes when a class is in session." 
Those who attended the August 17 demonstration were able to closely examine several archival items, including photographs, political campaign buttons, jewelry, and a thick, yellowed ledger filled lines of type recording how much day laborers were making during the Great Depression.  
Among the collections contained in the Broome Library archives are photographic collections—notable among them are the Santi Visalli and Elmer Lore collections—manuscripts, documents and memorabilia from California Senator Robert Lagomarsino and Latinx author/poet Michelle Serros—to name only a few collections. 
Looking at the larger picture, the Collaboratory marks one more step toward equity for CSUCI students, Blackwood said.  
"This is a way to contribute to lower course costs for students from a teaching perspective and from an equity perspective," she said.  
Because the Collaboratory is mobile, library staff eventually plan to take it out into the community for public demonstrations. 
"People could even scan the family bible," Blackwood said.