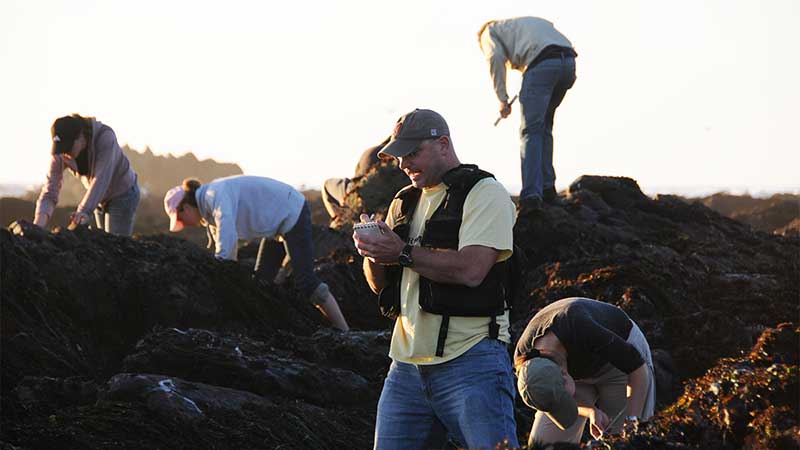 Sean Anderson
Sean Anderson has traveled the world to restore endangered ecosystems, protect wildlife, assess the impacts of pollution, and develop sustainable seafood standards. In his Environmental Science & Resource Management classes and research at CI, he takes students along for the journey.
"I very much believe in an active, student-focused approach to teaching that gets students involved with applied field research to the maximum extent feasible," Anderson said. "I put a tremendous amount of work into the design and delivery of my lectures and labs and believe in asking my students to engage at that same level."
Anderson's innovative courses give students broad exposure to science and social policy and valuable experience in survey and field work, fostering a deep understanding of ecological issues from every angle. Each year, he leads students to New Orleans, where they study post-Hurricane Katrina and post-Deepwater Horizon oil spill ecology, restore wetlands, and participate in service projects such as building homes and installing community food gardens. Locally, he conducts studies quantifying the effects of roads on animals (now using a citizen science iPhone app he authored), evaluates the sustainability of our seafood options here in California, and assesses the impact of pollutants on marine and estuarine systems. He created and co-leads the National Working Group on the Ecotoxicology of Gulf Oil Spill, the only independent national body investigating the long-term ecological consequences of the largest marine oil spill in history.
Anderson's innovative and energetic teaching efforts have garnered local and national awards and spawned the eponymous "Sean Anderson" character (played by Josh Hutcherson) in Warner Brother's Journey film franchise. They've also won over countless students, who honored him with the Maximus Faculty of the Year Award in 2007.
"Perhaps the crowning perk of my job are all the young, eager young adults I get to work with on a daily basis," Anderson said. "I relish helping launch the next generation of resource management professionals. There are so many challenges and opportunities here in Ventura County that many of our graduates end up settling down locally. Over the years, I have seen our ESRM alumni get hired and then move up the ranks of various local businesses, agencies, and NGOs. I take pride in the fact that our program is making a tangible improvement in the quality of life for people and the natural world here on the South Coast."
Anderson is an expert on the environmental effects of oil spills in coastal areas and has been quoted in local, national and international media outlets.
He and his Environmental Science & Resource Management students have been conducting a multi-year study on the California coastal zone, including data from the May 19, 2015 Refugio State Beach oil spill near Santa Barbara.
Anderson is also involved in researching the effects of the 2010 Deepwater Horizon oil spill (also known as the BP oil spill) in the Gulf of Mexico. He takes teams of student researchers to New Orleans every year to gather research samples and to do coastline restoration.

For the latest on Anderson's research into oil spills, click on:
 http://oil.piratelab.org/