Christy Teranishi Martinez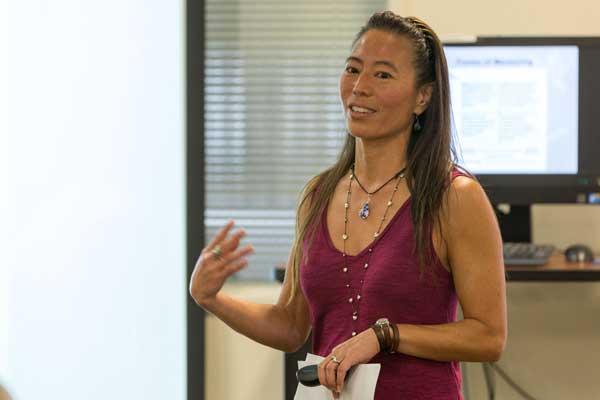 Majoring in Business Economics as an undergraduate at the University of California Santa Cruz, Christy Teranishi Martinez was intent on becoming the CEO of a large corporation, when she stumbled onto something she found even more compelling.
"I took my first psychology class and was fascinated by the nature of human behavior and how we are social beings," she said. "Psychologists not only identify, diagnose, and treat mental illness, but conduct research and develop strategies for reducing stress and enhancing our happiness and overall well-being."
That realization led Teranishi Martinez on the path to her Ph.D. in Developmental Psychology at UC Santa Cruz, and a 23-year career, teaching and conducting research on issues near and dear to her heart in the areas of identity, relationships, and positive psychology.
Today, as a Professor of Psychology at CI, Teranishi Martinez incorporates experiential learning into her courses, enabling students to enrich their psychological health and well-being while engaging in community service. Students in her Adolescent Development class mentor teenagers and emerging adults, focused on targeting adolescent problems. Along the way, they chronicle their observations in a journal, create a Public Service Announcement video, mobile app, or website, and write a culminating research paper connecting classroom theory to practical solutions. In her Positive Psychology course, students adopt lifestyle changes and use quantitative and qualitative research methods to explore factors that contribute to well-being. They write up their findings using APA style, and present their research at regional and national conferences.
A devoted mentor and practitioner of the teacher-scholar model, Teranishi Martinez has involved students in her research examining how athletes, artists, and academicians engage in flow, being completely immersed in an enjoyable activity where they lose track of time and everything else but the activity itself. She has co-authored publications with students on ultrarunning, flow, and well-being, and on exercise motivation. As co-advisor of the Psychology Club and founding faculty advisor for Psi Chi, the International Honors Society in Psychology at CI, she helps students develop their social and professional networks. Her dedication earned her the Educational Opportunity Program's Outstanding Faculty Mentor Award and several Maximus Award Finalist awards.
Having had an outstanding mentor at UC Santa Cruz to guide and support her along the path of her educational and career goals, Teranishi Martinez developed a passion for becoming a teacher-scholar. She utilizes the tools her mentor provided to pay it forward to her own students and colleagues as she strives to be a mentor and role model to the next generation of scholars. She is currently co-director of the CI Faculty Mentorship Program with José Alamillo, pairing newly hired tenure-track faculty with tenured faculty to help navigate their way through the retention, tenure, and promotion (RTP) process as they become acclimated to the CI culture.
Growing up in a Mexican farm working community, having grandparents who were farmers and parents who owned a Mexican restaurant, she developed a love for Mexican food, Latin music, Spanish language and culture, and her Latino/a community. Being fourth-generation Japanese American, she identifies as "Latisian," and is married to Daniel Martinez, a second-generation Mexican American from Texas. Together they have a beautiful and very bright five-year old Latisian son, Hayden, who aspires to be fluent in Japanese, Spanish, and English.
Teranishi Martinez brings her multicultural expertise as an affiliated faculty in the CI Chicana/o Studies program and as the director of faculty-led study abroad programs throughout Mexico, Peru, Hawaii, and Japan. Integrating her teaching and scholarly work, her publications have examined the impact of study abroad on Latino/a college students' ethnic identity and cross-cultural adaptability, and explored ways of facilitating flow via mentoring in a mind, body, spiritual journey through Peru.
"I love the students and colleagues I work with, and spend a lot of time helping students prepare for life after CI as they explore various educational and career opportunities," she said. "Interconnecting family, work, friends, and a sense of community creates a healthy balance for attaining my own goals of teaching, research, community service, and personal well-being." This year she is taking on the role of Director of the Center of Multicultural Engagement, aiming to strengthen the focus on cultural diversity and multicultural perspectives at CI.