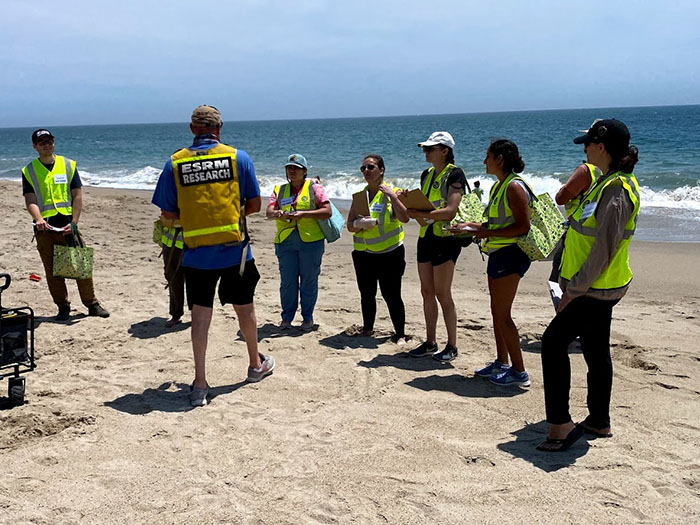 Beginning now, CSU Channel Islands (CSUCI) upper division students from all majors can apply for Santa Rosa Island Field Studies, a unique program that will give students a chance to spend almost a month living and learning about the environment, wildlife, cultural history, and dozens of other aspects of this island paradise from a variety of experts.
"We will be coordinating with a whole host of professionals to create different learning modules," explained Interim Associate Vice President of Academic Programs & Planning Jenn Perry, Ph.D., who is involved in the project. "Among the things that make this program unique is its location in a national park and the many perspectives we will use to study the extraordinary biodiversity and human story of California's Channel Islands."
The power behind the project is Santa Rosa Island Research Station Director Russ Bradley, who has been laying the groundwork for the field studies program with Perry and Assistant Professor of Environmental Science and Resource Management Dan Reineman, Ph.D. All of them are inspired by field studies programs they have attended and led in the past.
"I attended a fall field semester at a marine station in the senior year of my undergraduate degree and it truly changed my life in so many positive ways," Bradley said. "It's one of the main reasons I pursued a career in science. These sorts of immersive field experiences are a 'next level' extension of our programs at the research station. We want to create opportunities many of our students wouldn't have thought were possible for them."
The program is scheduled to begin in June of 2022, but applications for the field studies are already being accepted. The program will accept about 20 students who will be either juniors or seniors in fall of 2021.
"The students will spend almost an entire month at the station," Reineman said. "Jenn and Russ and I will rotate as instructors and have a whole bunch of different experts come in, including National Park Service biologists and Chumash elders, so students can learn the basics of ecological and anthropological fieldwork on the island, as well as the cultural history." The focus will be on learning methods and gaining skills common to career fields that involve doing work outdoors.
 Bradley worked hard with CSUCI Advancement to attract donors interested in supporting this kind of opportunity for students to fully immerse themselves in the study of the island.
"There are a number of professions in which students need to go through this kind of field training to be competitive, and these summer field studies are often very expensive," Perry said. "This is what makes this particular program incredible. We are providing equitable access to this opportunity by subsidizing the majority of the students with their board, transportation, food, equipment, and some need-based scholarships. We are making this as close to zero cost to the students as we can."
While living on the Santa Rosa Island, students will immerse themselves in learning about the plants, animals, ocean, geography, climate, human history and numerous other subjects that can be explored on the island as their outdoor laboratory. Students will develop a deep understanding of coastal environments and peoples' relationships with them over time, while also making connections with professionals and one another.
"Experiences like this are totally transformational," Reineman said. "As an instructor, it's by far and away the best way to teach because you develop a bond with your students that is different than in a classroom. Students develop amazing relationships in the field—the whole experience is profoundly cool, beautiful—magical."
Perry's work now is primarily administrative, but she hopes to be involved in the field studies in her faculty role as Professor of Anthropology. As a first generation college student, she delights in watching other first generation students' interest in the sciences ignite during a field program like this—just as hers did when she was part of a college field school.
"I was just a kid from a desert town with no options and this interest in archaeology," Perry said. "I managed to get a scholarship to the University of San Diego and did a field school on the Channel Islands. It was this moment that set the trajectory for the rest of my life. I want to give these students that kind of foundation."
If you will be a CSUCI junior or senior in fall of 2021 and would like to apply, email Russell.Bradley@csuci.edu
For more on the Santa Rosa Island Research Station, visit: https://www.csuci.edu/sri/