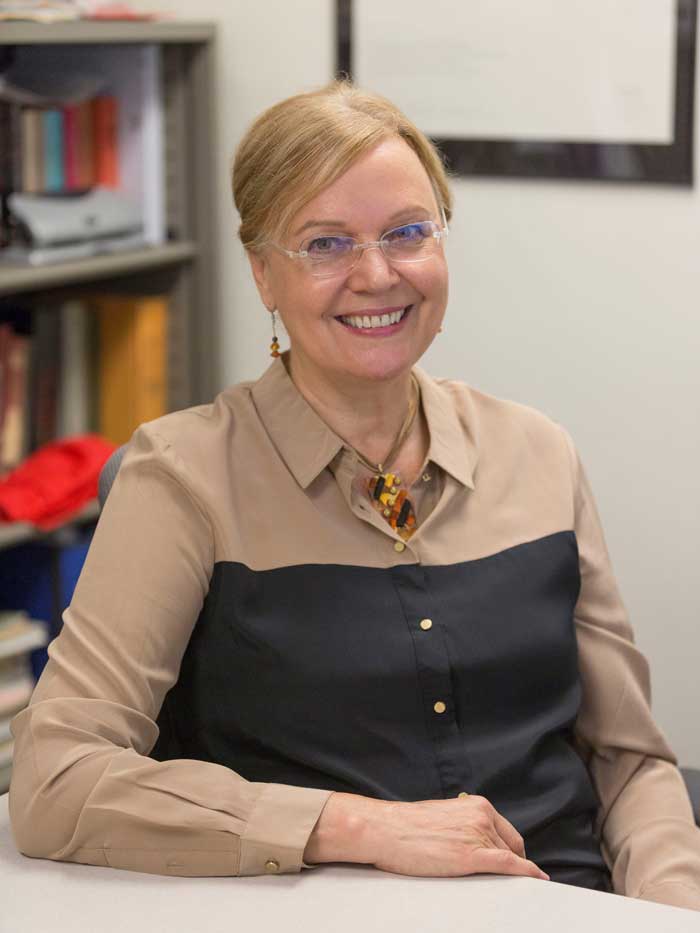 Luda Popenhagen
At the age of five, Professor of Performing Arts Luda Popenhagen got her first taste of the stage – igniting a passion for performing that spawned a successful international career as an actor, director, dramaturge, playwright, teacher and scholar.
"I still remember the pleasure I had in acting on stage, and the audience coming along with me into this land of make-believe. I also remember the applause and congratulations afterward," she said.
After performing professionally and teaching in her native country of Australia, as well as the United Kingdom, France, Lithuania, and the U.S., Popenhagen joined CI's faculty in 2006. Now a Professor of Performing Arts, she leads students on a spellbinding journey to realize their own power and potential as performers.
"Theatre can be poetic and a social forum, too," she said. "Students who study live performing arts are able to interpret and create artistic works. These experiences are beneficial to any profession where self-expressivity and live interaction occur."
Popenhagen constructs courses that capitalize on her broad background to blend disciplines such as English, History, Spanish, French, and Business – helping students build creative, analytical and practical skills that serve them in careers beyond the performing arts.
In World Drama and Theatre, students read and analyze dramatic literature from Asia, Oceania, South Asia, the Middle East, Africa and Latin America, and also stage and perform scenes and their own adaptations. In Business and Performing Arts, students explore the business and creative sides of the industry, using case studies to build a comprehensive view of performing arts organizations. In Advanced Acting, students perform exercises and scenes, drawing on performance styles and acting theories from classical to contemporary.
Popenhagen also shares her own rich professional experiences with her students. Among the highlights, she's performed in the Parisian premiere of a play by French-Romanian playwright Eugene Ionesco; toured as an artist-in-residence in the United States; published on Australian and French actors, acting schools, and pedagogues for Cambridge University Press; taught at the National Academy of Music and Drama in Lithuania; choreographed at the Centre Georges Pompidou in France; acted and mimed at the Paris Opera; and performed in international theatre festivals including Adelaide, Edinburgh, Houston, and Los Angeles. She recently earned a National Endowment for the Humanities grant to do research in Oxford, England, and next year she will serve as the Resident Director for CSU programs in France.
Though she's performed and taught in some of the world's notable venues, Popenhagen reserves some of her highest praise for CI and its students.
"I most enjoy watching the wonderful performances by our PA students and seeing their ranks grow at Commencement each year," she said. "I also take pleasure in following the trajectory of their careers as they attend graduate school, perform for various theatres in California, and work overseas."