by Kim Lamb Gregory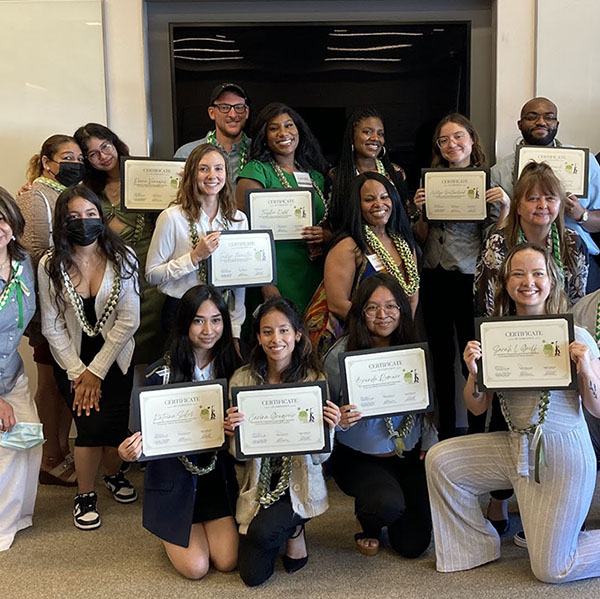 The application process is already underway for a year-long Cedars-Sinai Cancer Center undergraduate internship program on cancer health disparities.
The Undergraduates Gaining Research Opportunities for the Cancer Workforce (U-GROW) internship program begins in June of 2023, but the deadline for applications is January 14, 2023 with the scholars being announced January 27.
The paid internship is open to all CSU students in the Greater Los Angeles area including CSU Channel Islands (CSUCI). Students of any major can apply if they are interested in learning about how cancer diagnosis, treatment and health outcomes differ widely in various socioeconomic communities.
"For the longest time, more Black and non-white women would die of breast cancer than white women, even though the occurrence was the same," said Professor of and Chair of the Health Science Program Sonsoles de la Calle, M.D., Ph.D., who coordinates U-GROW at CSUCI. "It's a difference in terms of their access to health care and a cultural difference in their willingness to access health care."
U-GROW is possible because of a partnership between Cedars-Sinai and eight CSU campuses, with CSUCI being added in 2022, thanks to circumstance. CSUCI was just added in summer of 2022, and Performing Arts alumnus Taylor Kidd Rowan was the first CSUCI scholar to participate in the program.
Rowan was aware of the internship because her mother, Sherry Kidd, is the U-GROW program manager. CSUCI got connected with U-GROW when Kidd contacted former CSUCI Associate Director of Admissions & Recruitment Darius Riggins, who had been a friend and mentor for Rowan.
During their conversation, Kidd asked Riggins if there was a way to connect CSUCI with this internship opportunity for students. Riggins, who is now Director of Outreach at CSU Bakersfield, was happy to help and CSUCI became the eighth Los Angeles area CSU to become partners with Cedars-Sinai.
Rowan, who had graduated with a minor in Psychology, had been thinking about redirecting her career for a while so she decided to apply to become part of CSUCI's inaugural U-GROW internship in summer of 2022, and was accepted as CSUCI's first U-GROW scholar.
"Unfortunately the arts isn't the easiest field to break into and it was a little unpredictable," Rowan said. "So I decided to go a different direction. I still have a fascination with psychology and I was intrigued about relationships."
"It was scary at first because I was the only person in my cohort that didn't have any experience or knowledge in the sciences," Rowan said. "I was so far out of my comfort zone after studying performing arts and spending the last five years doing administrative work."
There had been cancer in Rowan's family and she had seen the emotional toll it had taken on the survivors and the family, so she became interested in becoming a Marriage & Family Therapist (MFT) with an emphasis on families touched by cancer.
Rowan was surprised how supportive everyone was at Cedars-Sinai Cancer, and gradually, she gained confidence and is now looking forward to pursuing her MFT.
"I have a passion about fighting the stigma against mental health treatment in the African American community," she said. "By participating in U-GROW, I learned more about the psychological dimensions of cancer prevention, diagnosis, treatment and survivorship."
The internship includes 240 to 360 hours with a Cedars-Sinai researcher—a minimum of 20 hours per week for nine weeks—over the summer. During the rest of the year, there will be monthly virtual scientific communications workshops and writing seminars for a total of 40 hours.
"The idea is to bring CSUCI undergraduates into the program for a mentor experience," de la Calle said. "They get a week of common presentations where they learn about biomedical research and clinical work on cancer, and they get support on graduate applications. They can establish a connection with a Cedars-Sinai Cancer investigator who becomes their research mentor."
U-GROW Director and CSU Fullerton alumnus Darrah Kuratani, Ph.D. was inspired to launch U-GROW while she was lecturing on multicultural health at CSU Dominguez in 2015.
"When I looked out at the classroom, all I could see was untapped potential," she said. "The majority of students at Dominguez Hills are students of color and over 50% came from lower socioeconomic status families. In the classroom, I found that access to information for First Generation students who aren't able to get academic support at home is vital to their success." 
Kuratani, who is also the first in her family to attend college, saw that there aren't enough research opportunities or writing centers available to make these students competitive for graduate school. And she knew that these students had the ability to excel when given the information, support and opportunities.
So, she got busy trying to find funding and eventually received a generous two-year grant for $186,500 each year from Cedars-Sinai Cancer Center.  She and the rest of the U-GROW team are currently in the process of procuring funding for the continuation of the program.
Advisors are looking for students who are in the first generation of their family to attend college, or who have lived experience that gives them a unique perspective and qualification to research health inequities when it comes to cancer.
"We firmly believe and research shows that our students at the CSUs who live in the communities where these disparities exist are in a unique position to detect and eliminate those disparities," Kuratani said. "They see how these communities operate. If we can get them to become the researchers or the decision-makers, we can better address the problem."
U-GROW will accept a total of 15 students from the eight participating CSU campuses. The applications are blind, so more than one student could come from the same campus, but high-performing students aren't necessarily what the U-GROW advisors are looking for.
"Of course we welcome high-performing students, and the minimum requirement is a 3.0 grade-point average," Kuratani said. "But we're also looking for people who may not have done as well in school, or fell away for some reason, but they found a way to fight back."
"We're looking for a diamond in the rough," Kidd said.
For more information or to apply for a U-GROW internship, visit: www.cedars-sinai.edu/research/departments-institutes/cancer/research-education-and-training or join their mailing list at https://forms.gle/xwqr84iSfD8pF9r16.