We've made some improvements.
Our web site is a reflection of our community: constantly growing and evolving.
Our mobile world
We've made sure the site is well-organized and comfortable to use on smartphones, tablets and laptops using a technique called responsive web site design.
Easy answers for prospective students
Students (and parents) considering CI want easy answers to important questions about CI. Our site design helps prospects find answers to these questions quickly and easily.
Faster for our community
Current students, faculty and staff need quick access to the most popular services, as well as clear pathways to find deeper information. We've grouped key wayfinding services (including myCI, the Events Calendar, the Campus Directory and Search), and created audience-specific pages to make finding answers even easier.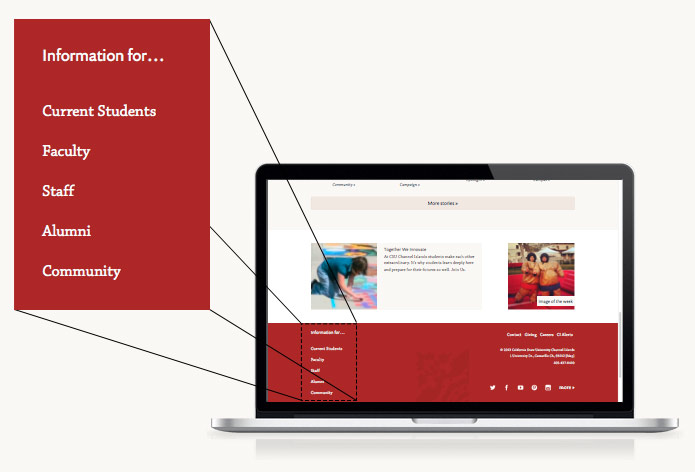 How we did it
Our process
We can't create a good experience in a vacuum. That's why we engaged and incorporated feedback from students, faculty, staff, campus leaders and industry experts to ensure we can achieve our institutional goals and communicate effectively with our community. Learn more about the web refresh process.
We want to hear from you!
If you find a problem or want to make a suggestion, please contact the IT Solution Center or call 805-437-8552. Don't be shy, we like compliments too!
Need more information?
Please contact Daniel Martinez, Web Services Supervisor at daniel.martinez@csuci.edu.