The Science Carnival will be come a virtual event to be held in April 2021 as a result of the COVID-19 pandemic.
Virtual CSUCI Science Carnival
The Virtual CSUCI Science Carnival is a FREE event for the public that will be held during the month of April, starting on April 5th! The Virtual Science Carnival will have:
Videos of fun, hands-on STEM activities for PreK-8th grade students
List of materials for completing the STEM activities
CI STEM students and STEM professional share their STEM pathway stories
Great resources for teachers teaching STEM!
Teachers are encouraged to use the Virtual Science Carnival to augment their STEM instruction!
We encourage you to visit the Virtual Science Carnival website and put April 5th, 2021, on your calendars as the launch date for this event!
This event is funded in part by a $6M U.S. Department of Education, Title III, HSI STEM Grant, by an Instructionally-Related Activities grant from CSU Channel Islands, and a donation from Careers in Energy
We hope to return to an in-person Science Carnival event during the 2021-22 school year.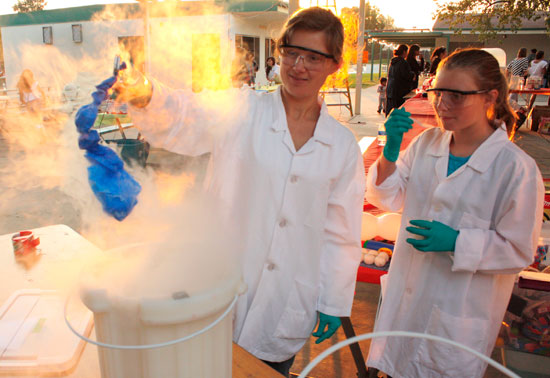 CSU Channel Islands (CI) student demonstrates the effect of liquid nitrogen on a balloon at the annual CI Science Carnival
We would like to thank our sponsors for supporting the Science Carnival: