Crime Alerts and Timely Warning Notices

11/9/15 Robbery-Crime Alert and Timely  Warning Notice
On the afternoon of November 9, 2015, a male subject reported to the CI Police Department that he had been robbed on campus the night before.  The victim reported that on November 8, 2015, at approximately 9:00 p.m., he was on foot at the corner of Camarillo Street and Channel Islands Drive when he was approached by four male subjects wearing bandanas.  The subjects physically assaulted the victim, took his wallet, and fled in an unknown direction.  
The incident is being investigated by the CI Police Department.  If you have information about this case, please contact the CI Police Department at 805-437-8444.  You may also provide crime information anonymously by calling Ventura County Crime Stoppers at 1-800-222-TIPS or online at 
www.venturacountycrimestoppers.org
.  
Robbery is a crime of violence that can threaten any person or business. Remember that money and material items can be replaced, but your life cannot. To protect yourself from becoming the victim of robbery, consider the following safety tips:
​Travel well-lit and populated routes. Avoid walking or parking in dark or shadowed areas. Have your keys in your hand as you approach your door, and remember to be alert to your surroundings. Glance under your car, around it, and in the back seat before you get in.

Avoid text messaging or talking on the phone unless you absolutely need to use the phone.

Avoid displaying and carrying large sums of money in public. Only carry the credit cards you need.

Be careful with purses or wallets. Carry a purse close to your body, but do not loop or wrap straps around you. A purse snatcher could injure you. Keep wallets in an inside pocket.

There's safety in numbers. Consider walking to class, doing errands, or shopping with a friend or two, especially at night.

If you are confronted, cooperate!

 

Give the criminal what he/she asks for — wallet, keys, jewelry, credit cards, electronics, etc. Your life is more valuable than your possessions. Don't make sudden moves or try to apprehend the criminal yourself. Concentrate on remembering the person's description and call police immediately.

Report any suspicious activity or person immediately to the CI Police Department by calling 805-437-8444 or 911.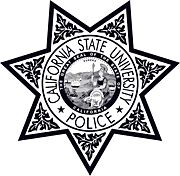 Emergency Dial 911
Non-Emergency: (805) 437-8444  
Parking Services: (805) 437-8430
Email: police@csuci.edu
Email: parking@csuci.edu
News & Events