We offer a variety of services tailored to suit your graduate studies needs. From learning more about graduate school to test preparation support, we are here for you in your pursuit of a graduate degree!
Graduate Studies Center Services:
Our Graduate Studies Counselor will assist you with career, graduate school admissions, and graduate program information. If you are interested in learning more about graduate school, feel free to make an appointment with our counselor.
The Graduate Writing Studio services have moved over to the Writing and Multiliteracy Center in the Broome Library. Writing support is available at the WMC for graduate students who may need assistance in writing a thesis or other help in writing a paper for graduate programs here at CI.
Graduate School Entrance Exam Preparation Book Check Out--Test Preparation Books available at the Advising Center for Check-Out!
Featured Events
Graduate & Professional School Fair
CSUCI welcomes local, regional and national schools to campus to recruit for their graduate and professional degree programs. The Graduate & Professional School Fair is held every fall semester.
Chancellor's Doctoral Incentive Program & Sally Casanova Pre-Doctoral Scholars Program Information Sessions
Chancellor's Doctoral Incentive Program (CDIP)
Through the Chancellor's Doctoral Incentive Program (CDIP), the California State University (CSU) provides financial assistance in the form of a student loan to a limited number of individuals pursuing doctoral degrees. The program seeks to provide loans to doctoral students who are interested in applying and competing for CSU instructional faculty positions after completion of the doctoral degree.
Sally Casanova Pre-Doctoral Program
The CSU Pre-Doctoral Program each year identifies Sally Casanova Scholars, prospective graduate students from educationally disadvantaged backgrounds who with a faculty mentor and financial assistance prepare for graduate school during their junior or senior year. Students who are already in Master degree programs also qualify for this program.
Additional details: https://www.csuci.edu/app/predoctoralprogram.htm
Graduate School Panel Night
During the spring semester, we host a graduate panel where students have the opportunity to connect with current and former graduate and professional degree scholars, all from diverse professional backgrounds. Graduates and undergraduates are encouraged to attend.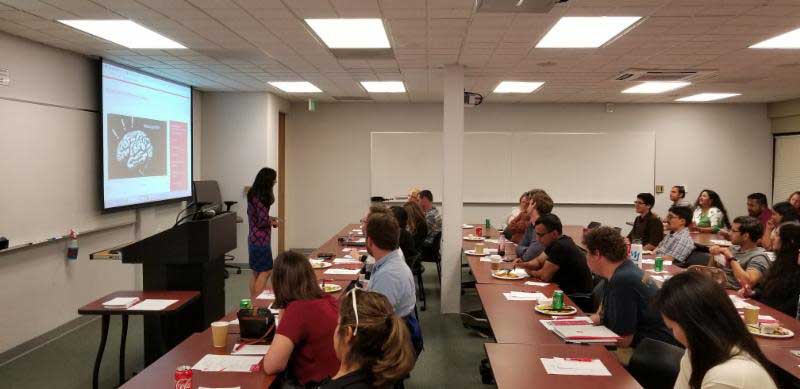 Graduate Studies Center Workshops
The Graduate Studies Center created a series of workshops to introduce undergraduate students and alumni to the opportunities presented by obtaining a graduate or professional degree. The workshops are open to all current students. The one-hour workshops vary in topic to help students who are considering graduate or professional school and those in the process of applying to graduate/ professional school. The workshops are held each Spring and Fall semesters.
Graduate Record Exam (GRE) Preparation Sessions
In collaboration with Extended University, we offer test preparation sessions for the Graduate Record Exam (GRE), which is the most common entrance exam for graduate school. Earning an advanced degree can create many opportunities. In fact, recent data from the Bureau of Labor Statistics illustrates how education pays in higher earnings and lower unemployment rates. The GRE is one component of most graduate school admissions processes.
This six session GRE test prep course will build your confidence by going over the exam logistics, talking through the different sections of the exam and the format of exam questions in each section, give you the opportunity to take practice exam questions, and provide additional tips for preparing and studying for the GRE. Much of the course will be spent on content and questions similar to those on the actual exam. These sessions are offered year-round, via in person and online modes of instruction.
Additional Graduate & Credential Entrance Exam Support:
CBEST, CSET, GRE, MCAT, OAT, LSAT and GMAT test preparation books are available for check-out!