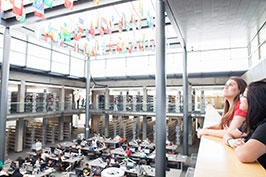 Welcome to the Center for International Affairs web site. Here you may easily explore the programs and services available through our office. The primary mission of the Center for International Affairs is to internationalize the California State University Channel Islands educational experience. Thus the committee supports the University mission to "graduate students with multicultural and international perspectives." The Center for International Affairs promotes and supports efforts to internationalize the curriculum, afford students the opportunity to study abroad short term, support international faculty collaboration, and foster links with higher educational institutions around the world.
"Traveling ~ it leaves you speechless, then it turns you into a storyteller." - Ibn Battuta
November 18 - 22
International Education Week (IEW), November 18-22, 2019, is an opportunity to celebrate the benefits of international education and exchange worldwide. This joint initiative of the U.S. Department of State and the U.S. Department of Education is part of our efforts to promote programs that prepare Americans for a global environment and attract future leaders from abroad to study, learn, and exchange experiences.
The Center for International Affairs, the International Programs Office and Department of Student Affairs encourage the participation of all individuals in the variety of events, information sessions, and activities we will have during International Education Week
Calendar of Events
---