The University Seal is the official mark of the University. The seal consists of the California State University Channel Islands bell tower in the foreground with a rising sun in the background. The bell tower is an important symbol for the University and represents a community center. The rising sun signifies the birth of our University, which emanates the light of knowledge and the warmth of engagement.
Please Note: Use of the University Seal must be approved by the Communication & Marketing office at 805-437-8915. Once approved, C&M will provide appropriate files for use.
Color Variations
The seal may be foil embossed, reproduced in black, or printed in the official school colors: PMS (Pantone Matching System) 186 Red and PMS 877 Metallic Silver. Since metallic silver may not be appropriate for some publications, the recommended substitute is PMS Cool Grey 11.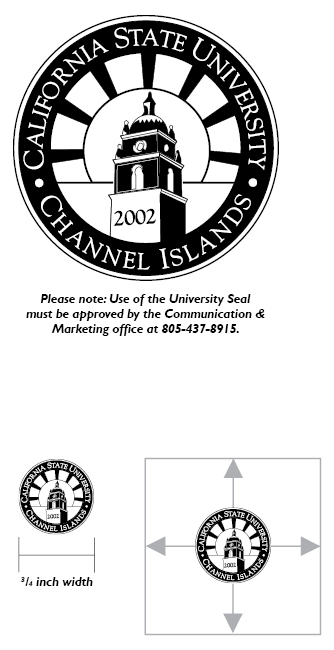 Unapproved and Approved Uses
Unapproved Uses:
Do not change or distort the Seal in any way
Do not use colors other than Black, PMS 186 Red, PMS 877 Metallic Silver, or PMS Cool Grey 11
Do not enlarge or reduce the Seal disproportionately
Do not reduce the Seal smaller than 3/4 of an inch in diameter
Do not place the Seal in close proximity to or over other logos or patterns
Approved Uses:
President's Circle event materials, pins, medallions, certificates, and diplomas.
Clear Space
It is also important to maintain an area free of other designs that would detract focus from the university graphic elements. This area should be a minimum of 1/4 an inch on all sides of any graphic elements when possible, unless the logo is used in combination with other elements.