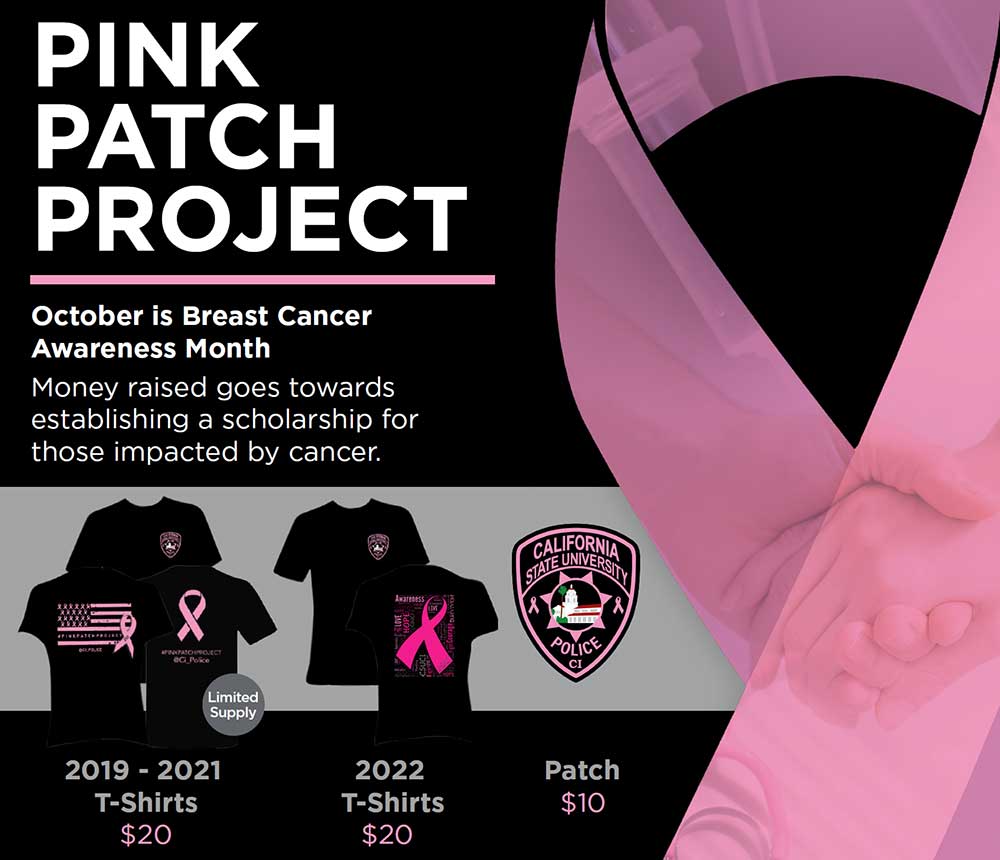 Agencies from across the nation and beyond have partnered together in the Pink Patch Project to combat breast cancer by raising public awareness and raising funds for breast cancer education, research, and treatment.
The program centers on vibrant pink versions of the police department's uniform patch designed specifically for our Pink Patch Project. All uniformed members of the CSUCI Police Department wear these pink patches on their regular uniforms during the month of October, which is "Breast Cancer Awareness Month." Wearing pink patches on the member's uniform is intended to stimulate conversations with the community during our daily contacts with them and to encourage discussion with the public about the importance of early detection and treatment in the fight against this disease.
The CSU Channel Islands Police Department joined the Pink Patch Project in 2017 and began fundraising efforts in 2018. With the assistance of The CSUCI Foundation, our department has dedicated our fundraising efforts to establishing a scholarship on campus for students who have had or have been impacted by cancer.
***If you are making a gift in the "Other" section, please indicate how many patches or shirts you would like to receive. Also, please indicate if you would like the 2021 or 2022 patch or t-shirt. Please contact Parking & Transportation Services at 805-437-8430 BEFORE you donate toward a t-shirt to ensure your size is still available. ***
For the purpose of strengthening the development program so that it may work to increase philanthropic support of CSUCI as well as partially defray administrative costs, a portion of all donations will be used to further advancement efforts on behalf of CSU Channel Islands. See CSUCI Foundation's Policy on Gift and Endowment Management Fees for details.